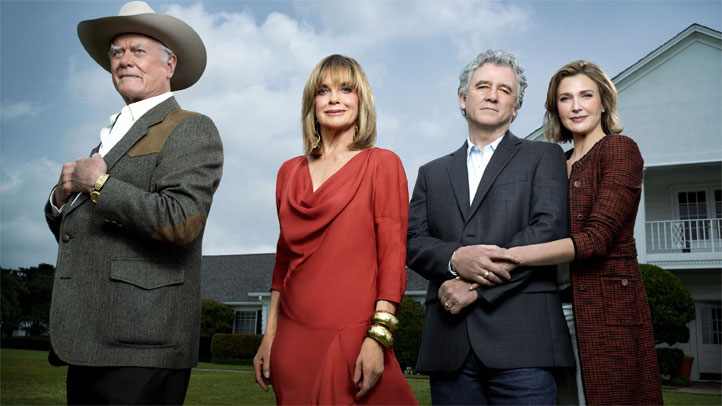 Ten gallon hats and big belt buckles might not be your thing, but if you like what you see on TNT's "Dallas", you're in the right place. Some of the "Dallas" fashion is not practical for true Dallasites, but here's the rundown on what pieces to add to your wardrobe to match the style of your favorite "Dallas" character.
JR Ewing:
Sport coats, neckerchiefs, and cowboy hats, oh my! This oil tycoon has a style that's stood the test of time. From his days on the original "Dallas" to the new show, JR's style is summarized in two words: Southern businessman.
To get a JR look, you will most assuredly need to invest in a sport coat or blazer. Try this one from Brooks Brothers for $313.60 or this bold tweed one for $418.60, also from Brooks Brothers. For a button up, try this one from Pintoranch for $75.00. With a western feel and muted color, it's perfect to peek out from beneath either a simple or a bold coat. But to truly do the look justice, you'll need to top it all off with a cowboy hat. If JR is your fashion muse, then this hat from Pintoranch will be the perfect finishing touch.
Sue Ellen Ewing:
She's a power player with a wealth of business knowledge and even more influence. Sue Ellen is still just as conniving as her days on the original show, but her fashion has come a long, long way. Her style is more refined, elegant and she radiates Southern sophistication.
To dress like an exec, give this Michael Kors wrap dress a try, or for a younger twist, try this Calvin Klein sheath dress, both from Macy's. This pair of boots by Mia or this pair by Diba, both from DSW, complete this Sue Ellen look.
Bobby Ewing:
For this mild-mannered, compassionate Southern man and proprietor of South Fork Ranch, it's traditional ranch style all the way.
Button-ups, jeans and the occasional blazer make up Bobby's wardrobe. This sport coat from Men's Warehouse is a good complement to snap-button shirt like this one. To complete the look, slip on these Lucchese "Ranch Hand" boots from Pintoranch, $625.00.
Ann Ewing:
For the woman who knows her way around a ranch, riding boots, jeans and tailored jackets and tops are everyday go-tos.
Dillards or Nordstrom are great places to look for riding boots. Dillards has these tall riding boots by Frye, as well as these shorter distressed boots, also by Frye. Tuck this cowlneck top into fitted, form flattering jeans and pair it with this printed cardigan for a look similar to what Ann might wear off of the ranch. Both pieces can be found at Dillards. Skinny jeans or jean leggings with boots similar to those above will complete the look. Look for something similar to these skinny jeans by Seven Jeans for $119.00.
John Ross Ewing:
For this devious son of an equally as amoral oil baron, style can change at the drop of a ten-gallon hat. Depending on his setting, he can be dressed as a rugged outdoorsman or a sophisticated playboy.
For the more outdoorsy guy, something similar to this denim snap button shirt from Pintoranch is essential to the John Ross look. For outerwear, sport this black suede vest from Cavender's and this blended felt and fur Stetson hat from Pintoranch. For the debonair bad boy look, match this white, stand-up collar button down with these charcoal western dress slacks, and the same black vest, all from Pintoranch.
Elena Ramos:
This intelligent beauty has a no fuss, no frills kind of style. Because Elena goes to work at an oil rig, there's no need to spend time coordinating complex outfits. Tank tops and jeans would suit her just fine.
Neutral tones and simplistically embellished tanks are perfect to create this look. Tanks like this one from Dillards or this roll-sleeve top in taupe, also from Dillards, are great for just another day at the office -- or oil derrick. Pair similar tops with these boot cut Seven Jeans for $198.00 and these distressed Ariat boots from Cavender's for $159.99, and your not so girly-girl, but oh so comfy, outfit is complete.
Christopher Ewing:
It's all khakis, button-ups, tees and jeans for this preppy southern boy. He doesn't fit the profile of a Ewing (in more ways than one), in that his style is more casual and cool, so look to lighter colors and more contemporary pieces.
If your style is closer to Christopher's, then you spend more time in Henley T-shirts and tennis shoes than denim button-ups and work boots. Pair this Henley T-shirt from Nordstrom, these boot cut Seven Jeans for $119.00 and this pair of Adidas originals for $70.00.
Rebecca Sutter:
New comer to the Ewing clan, Rebecca, has a style that can be characterized by feminine baby doll dresses and fun and bright colors.
Dillards carries this lovely BCBGeneration dress for $37.80 that's a perfect fit for those looking to emulate her girly style. Also try something like this delicate, pale pink dress from Dillards for $60.90. For the girly girl, slip on slinky sandals like these from DSW for $39.95.
Keep these fashion hints in mind, and maybe you'll be an extra as "Dallas" films in North Texas for their next season.