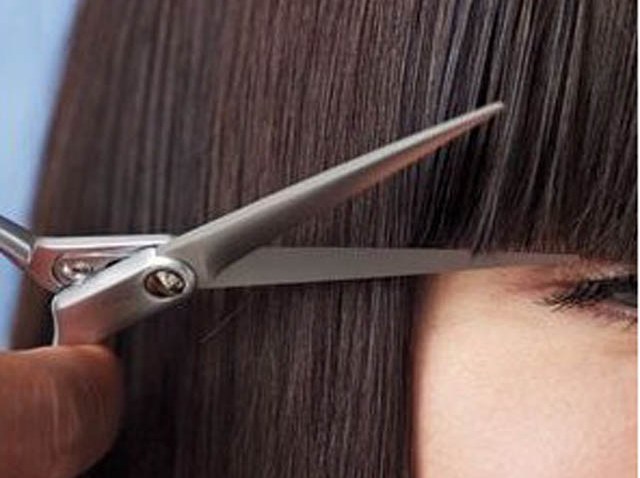 Sometimes fashion means more than just an outfit or bag; sometimes, it's a way to project to others the person you want to be. And as anyone who's ever had a bad hair day or made a bad decision can tell you -- sometimes a little style can go a long way toward giving you the extra confidence you need to make changes big or small.
That's why Exodus Ministries and Uptown Consignment came together to give one lucky girl a makeover. Exodus, an organization dedicated to breaking the chain of generational crime by supporting women who are ex-offenders, challenged every woman living in their facility to write an essay about why they deserved this pampering. The winner -- a young mother of three who loves to cook and likes music by Susan Tedeschi and Prince -- got a capsule wardrobe from Uptown Consignment as well as styling, hair, and makeup. To say she looked fantastic is an understatement; she looked gorgeous, grown-up, and glowing!
"I'm just blown away!" Dora Chu, producer and stylist for the project, said. "I can't believe the generosity everyone here has shown and how stunning she is."
By everyone, she means the awesome Ivy Halford who took time away from her celeb clients on both coasts to do makeup, Vicki Crowe whose new hair salon, Monte's, provided cut and color, and sisters Camille Umland and Connie Dieb who own the recently opened vintage mecca Uptown Consignment.
And the best part? This is the first of many collaborations between Exodus and their new fashion forward partners. They plan on holding future contests just like this one to reward other deserving women. It doesn't get anymore fabulous than that.
Want to help Exodus Ministries, Dallas' only support group for women who have a felony and a family? Then don't miss their golf tournament at Bridlewood on September 18.
Looking for a way to work your wardrobe for a great price? Uptown Consignment (4152 Cole Avenue, Dallas) is a treasure trove. Don't miss their grand opening September 12 when they'll unveil pieces from a brand new acquisition that's rumored to include Cavalli and Chanel.
See the gallery for all the before, during, and after fun! Not to mention a preview of the sweet items available right now on racks at Uptown Consignment.
Copyright FREEL - NBC Local Media