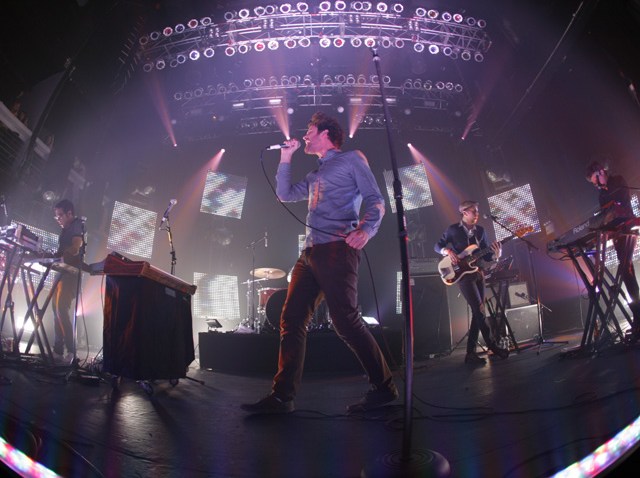 The Boston, MA-based Passion Pit began as a one-man project of singer and songwriter Michael Angelakos to produce a Valentine's Day gift for his girlfriend. The gift, an EP entitled Chunk of Change, soon wound up in the hands of friends and acquaintances, who were enthralled with the work. Eventually, Passion Pit became not only a vehicle for the romantic expressions of Angelakos' heart but a full-fledged band. That full-fledged band has since released the critically acclaimed Manners and is about to embark on a fall tour with British band Muse. Make sure to make it down to the Loft tonight to catch them in an intimate environment before it's too late.

We've been talking about the Texas Theatre a lot recently, and for good reason. They've been showing great films that range in style, but always have style. Tonight's selection, Voy a Explotar was the winner of three Guadalajara Film Festival awards and was nominated for Mexico's Golden Ariel. Voy A Explotar is the story of two teen rebels and lovers. Private-school bad-girl Maru hooks up with rich-boy Roman and the two run away together — all the way to the roof of Roman's father's palatial home. The pair wreaks havoc on the adults as only teenagers can, but eventually their relationship faces real tests. Directed by Gerardo Naranjo (DRAMA/MEX) and produced by Gael Garcia Bernal and Diego Luna. $5 suggested donation.

We all know that Denton has produced a host of great songwriters, but recently Denton has been producing some fine electronic noise as well, with Florene leading the way. Tonight they play Rubber Gloves, along with Cold Mold, Marrige Material, Dharma and DJ Shane English. Their recent release Homemade Extacy, "pulls from a few different sounds. At times, it recalls Fu*k Buttons' dance-imbued static throb, the grinding industrial rock of HEALTH, Holy Fu*k's electro post-rock patchwork, and to a lesser extent, Trans Am's stadium-rock pranksterisms. Music in his vein thrives when it focuses on the tension between noise and melody. Florene's tracks seem to be searching for that sweet spot that comes when visceral electronics meet sweeping arrangements." Sweet indeed.
---
Get to know What You're Doing Tonight every day by connecting with NBCDFW Around Town. Text DFWTonight to 622339 to get WYDT updates right on your mobile device. Still need more things to do? Check out our Events Calendar.
Copyright FREEL - NBC Local Media