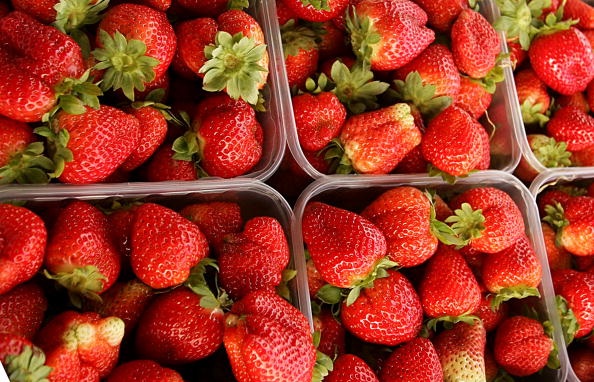 MORE THAN JUST CHOCOLATE DIPPED: Recently I tried to grow strawberries, and I am here to tell you it is hard. Tomatoes. Easy. Lettuce. Easy. Basil. Easy. Strawberries. Nearly impossible. That's why when someone can actually produce more than one tiny berry it's time to throw a festival, and that's just what the Dallas institution Arcodoro & Pomodoro is doing. In celebration of June being the peak of strawberry abondanza, from today through 19th of the month, Arcodoro & Pomodoro will serve a special strawberry-themed menu with their traditional Sardinian flare. Don't miss an opportunity to see what one of Dallas's most intriguing restaurants does with this classic berry.
TAKING SHAPE: Here's something I bet you didn't know. We have a Museum of Geometric and Madi Art. What's Geometric and Madi Art you say? Well one way to find out is to check out Geometric Interpretations: Works using Paper. The exhibit curated by Ruth Anderson explores the use of paper in both flat presentations and complex dimensional works. Pieces by Flo Barry, Ronald Watson and Robert McAn are included along with the work of over 20 Dallas artists. This is a truly unique opportunity to find out just how multi-fasitied the Dallas museums have become.
IT'S MONDAY. DON'T GRIPE: So you've just come off a fantastic weekend motorcycle trip for one across the Texas Hill County. You felt free with the wind in your hair and the sun on your skin. Now comes Monday, and you feel like the florescent lights above you are literally sucking every ounce of that precious memory out of your tan. Well it may not be exactly excitement and adventure, but tonight at Good Records you'll get to grab a bag of popcorn, a blue hat cupcake in honor of the new Devo record and check out the totally unrelated Danielson Family movie aptly titled Danielson: A Family Movie. Hey, it may not be your personal Easy Rider, but it'll at least repair your soul a little.
---
Get to know What You're Doing Tonight every day by connecting with NBCDFW Around Town. Text DFWTonight to 622339 to get WYDT updates right on your mobile device. Still need more things to do? Check out our Events Calendar.
Copyright FREEL - NBC Local Media