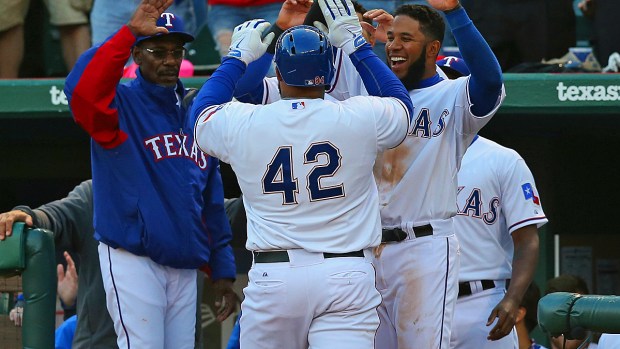 Getty Images
ARLINGTON, TX - APRIL 15: (L-R) Prince Fielder #84 (wearing No. 42 for Jackie Robinson Day) of the Texas Rangers celebrates his home run with Elvis Andrus #1 against the Seattle Mariners in the second inning at Globe Life Park in Arlington on April 15, 2014 in Arlington, Texas.
Prince Fielder, with one swing of the bat on Tuesday night, brought an electricity that had been lacking at Globe Life Park in recent days. His first-inning bomb to dead center field off former Rangers prospect Blake Beavan not only gave the Rangers an early 1-0 lead that quickly became 2-0 with the next hitter, but it also seemed to ignite the crowd and the dugout while lifting a monkey off Fielder's back.
He finally had his first home run in a Rangers uniform, and if he has his way, it's going to be his first of many.
It had been evident in recent days that Fielder would soon break through. He was hitting the ball hard, but just not quite getting enough lift. With that swing, he got plenty, and he was trotting around the bases into a dugout of excited teammates that were quick to greet him.
Fielder also walked and scored a run in the eighth inning on a Kevin Kouzmanoff double after the slugger went 2-for-4 in Monday night's blowout loss to the Mariners.
With Adrian Beltre out of the lineup, the Rangers are desperate for someone to drive in runs in the heart of the order, and if Fielder can parlay his two good games into something bigger, the Rangers might be in business, especially with how well the starting rotation has done since Yu Darvish made his first start of the season on April 6.