The driver of a fuel truck died in a crash on US 75 Wednesday morning when he crossed through the center divider and overturned the truck, which caught fire, Richardson police said.
According to police, the crash that killed Colten Everett King, 28, was reported shortly at 9:57 a.m. in the northbound lanes of 75 between Renner Road and President George Bush Turnpike.
King was heading south on 75 when he veered to the left, into the median wall and into the northbound lanes, police said. The truck overturned and ignited.
No other vehicles were involved, police said.
A picture taken at the scene showed firefighters spraying water onto the charred wreckage of the vehicle. Video from Texas Sky Ranger appeared to show fuel spilled across the width of the northbound section of the highway.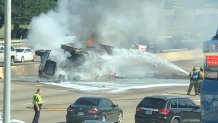 In an update at 2 p.m., police said that the hazmat hazmat spill and repairs to the center median are expected to impact traffic in both directions for several more hours.
Traffic
Covering traffic news that could affect your commute.
The road was reopened to traffic just before 8 p.m.