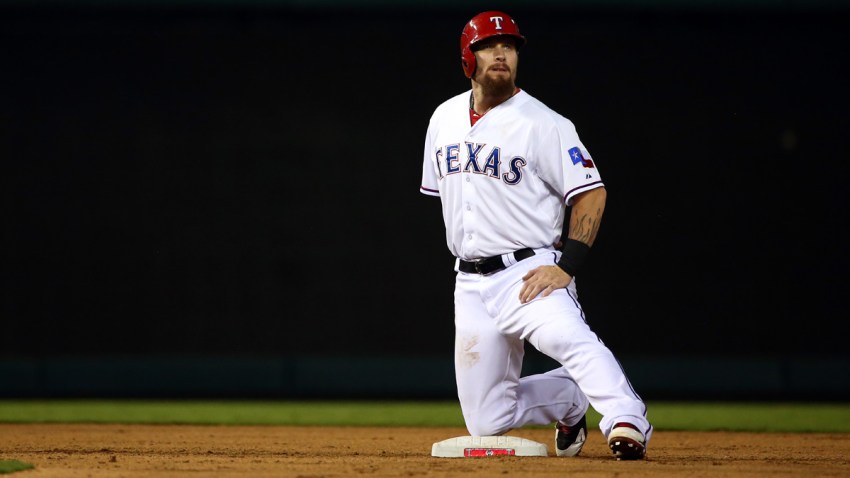 Josh Hamilton went on record earlier this spring saying he thinks he can play 120 games for the Texas Rangers. We knew that was absurd. Well, that was before it was announced Hamilton would miss at leas the first month of the season — roughly 30 games — meaning he'd basically play every game from that point on.
That's just nuts.
At this point, I'd set the over/under on Hamilton's games played at around 80, and I'm not sure what I'd take. After the weekend's news of Ian Desmond signing with the Rangers on a one-year, $8 million deal to be converted to a left fielder, I'd definitely take the under.
Sports Connection
Connecting you to your favorite North Texas sports teams as well as sports news around the globe.
The move signals the fact the Rangers don't really have expectations for Hamilton at all after he had to go through a cortisone injection and a platelet-rich plasma injection into his bum knee before the team ever began workouts. That's a bad sign.
Hamilton, whose entire 2016 Rangers salary will be paid by the Angels, said he's on board with the Desmond signing because all depth is good depth.
"I've talked with Jon Daniels, Thad Levine and Jeff Banister this morning, and they told me they wanted to have more depth," Hamilton told the Dallas Morning News on Sunday. "I agreed with them 100 percent. Last year, I told Banister that there are 25 guys who love each other and work together in this clubhouse and want what is best for this team. I'm one of those guys.
"I told them I thought it would be a great addition."
Hamilton played in 50 games last year after missing all of spring training and the beginning of the year before being traded to Texas in late April and making his debut a month later. It's looking now like he'll be on roughly the same timeline, and if Desmond performs, there might not be much playing time for Hamilton.
"I can't worry about anything other than doing this right and getting back on the field," Hamilton said. "I want to get to a point where I can help the team."
Copyright FREEL - NBC Local Media