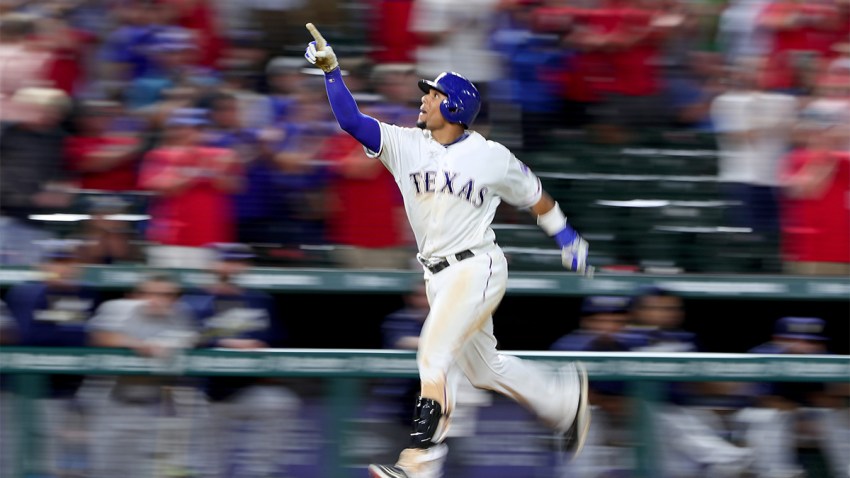 Spring Training is still a few months away, but questions remain for the Rangers as they look to defend their back-to-back American League West division titles and shake off another disappointing early exit from the playoffs. There will be some changes made with the roster going into February, including a possible reshuffle in the outfield.
So, when looking at the current outfield alignment, should the Rangers seriously consider bringing back free agent centerfielder Carlos Gomez?
After being released by the Houston Astros during the past season, the Rangers took a chance on Gomez and he responded with a solid six weeks in a Texas uniform, hitting .284 with eight home runs and 24 RBI's in 33 games. The 30-year old is looking for a multiyear contract that is rumored to be as high as five years. The fact that All-Star outfielder Ian Desmond declined the Rangers qualifying offer and has entered the free agent market along with rightfielder/designated hitter Carlos Beltran, Gomez's chances to return to Arlington are looking a little better, if the price is right.
Sports Connection
Connecting you to your favorite North Texas sports teams as well as sports news around the globe.
Now Shin-Soo Choo played centerfield during his time in the National League, but has stated in the past he's more comfortable playing in right and has no desire to switch. Injury issues have also been a problem for Choo during his time with the Rangers, and he still has four years left on that seven-year, $130 million contract. Basically, that means is he's in right when healthy with occasional games in the designated hitter spot due to that hefty contract.
However, one player got a chance to shine during Choo's absence and showed the promise of a future All-Star. 21-year old Nomar Mazara was considered one of the top prospects in the Rangers organization and showed why last season; hitting .266 with 20 home runs and 64 RBI's. Mazara spent a majority of his rookie year in right, but once Choo returned, Mazara moved to left and didn't skip a beat defensively.
It appears the corner spots are locked in, with centerfield being the lone question mark. If the Rangers choose to bypass Gomez and go a different route, they could make a play for Dexter Fowler, who's coming off a solid season himself with the World Series Champion Chicago Cubs. Fowler is the prototypical centerfielder and lead-off hitter who will take his walks at the plate and save runs on defense. However, it won't be easy to land Fowler as several teams are expected to make a run at him this offseason.
The Rangers also have Delino DeShields and Ryan Rua in the mix. DeShields was the centerfielder during the 2015 division title run, but was considered inconsistent on defense. Rua has the potential to be a strong bat in the line-up, but is likely a fourth-outfielder on this roster with the possibility of seeing more time at first base. Jurickson Profar did play 14 games in the outfield thanks to his bat last season, but he's more of an infielder and a possible trade piece for the Rangers since there really isn't a spot for him in the infield at the moment.
There are other scenarios that can always develop prior to spring training, and even once spring training begins. Hot Stove talk never takes a day off during the offseason.