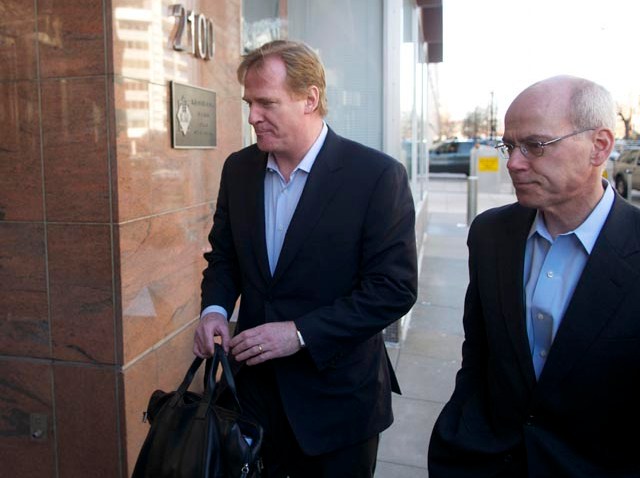 We've made mention over the past week or so of the potentially contentious issue of blood testing for HGH in the NFL, an idea that, on Monday, Commissioner Roger Goodell said would be necessary in hammering out a new collective bargaining agreement. And unsurprisingly, the contention begun shortly after Goodell made the remarks.

Baltimore Ravens receiver Derrick Mason told Steve Davis and Ed Norris on 105.7 The Fan in Baltimore that, uh, he wasn't in strong favor of Goodell's sudden emphasis on drug testing.

"[Goodell] needs to stop crying about blood testing and HGH—he needs to get a deal done," Mason said, via ProFootballTalk.com. "He to me, is just a joke."

As stirring as the words may be, they're completely predictable. The players have always been against the idea of blood testing for its potentially intrusive nature--pair that with the fact that Goodell chose now, when the fate of football in 2011 is at stake, to take the hard line on the issue, and you can understand how some might be incensed and or confused.

"You want to do whatever you have to do to make sure there's not a competitive edge in this sport," Mason said. "Blood tests? I don't know. They've been crying about blood tests for the longest time. I think that's too intrusive. There's other ways and other methods, I think, to go about testing for it."

For the most part, we agree with Mason here; but he is wrong in one right, as there is no other way to test for HGH, aside from blood testing--which is at the heart of this latest impasse between players and owners.
Stay on top of the latest Dallas Cowboys news with NBCDFW.com. Follow NBC DFW Sports on Facebook or have breaking Cowboys news sent directly to your phone with Blue Star SMS alerts. Text "bluestar" to 622339 (NBCDFW) to subscribe to this free service. Read more about it here.

Copyright FREEL - NBC Local Media