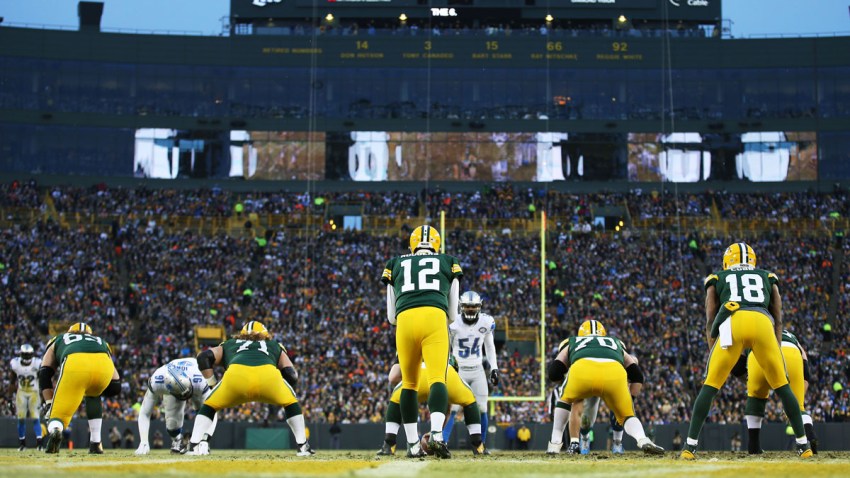 Last Sunday, the Cowboys faced the NFL's No. 1 defense.
This Sunday, they face the league's No. 1 offense.
Cowboys fans have a few reasons to be nervous about the team's matchup with the Packers in Green Bay with a trip to the NFC Championship Game on the line.
Sports Connection
Connecting you to your favorite North Texas sports teams as well as sports news around the globe.
1. The Best QB in NFL History?
Look, Green Bay's quarterback is really good. The name Aaron Rodgers doesn't come up often in conversations about the best quarterbacks of all time, but it should. If you forget stats and just look at skill, Rodgers in his prime is the best in NFL history.
Many people reading this will say it's ridiculous to think Rodgers is better than Peyton Manning, Tom Brady, Dan Marino, John Elway and countless others. The 49ers fan in me wants to say Joe Montana and Steve Young were better, but they weren't. No other quarterback had Rodgers' levels of mechanics, arm strength, accuracy, escapability, mobility and acumen.
If you want to judge a pitcher's control, watch how much the catcher has to move his glove on each pitch. Forget completion percentage. If you want to see the arguably the most accurate quarterback ever, watch Rodgers ideally place throws so his receivers don't break stride. His footwork and throwing mechanics are impeccable, even on the run.
And when he plays at home, Rodgers is even more of a wizard. This season, his home passer rating is a ridiculous 133.2 and he hasn't thrown an interception in Green Bay since 2012 (not a typo).
2. Unheralded Offensive Line
Having Rodgers as a quarterback makes the Packers offensive line's job easier, but they deserve credit as well. The Cowboys might have the most envied line in football, but the Packers's group quietly became one of the better units in the NFL.
Green Bay's offensive line is actually better than the Cowboys' in pass protection. In fact, only the Denver Broncos have given up fewer pressures this season among playoff teams, according to ProFootballFocus.
The Packers' offensive line isn't on the Cowboys' level in terms of run blocking (though none are this season), but they're good enough. They, along with bruising running back Eddie Lacy, can beat defenses that commit to stopping Rodgers and the passing game.
Between trying to get to Rodgers and Lacy, the Cowboys front seven is going to have its hands full Sunday.
3. A Linebacker's Position Change
Green Bay defensive coordinator Dom Capers has always moved linebacker Clay Matthews around, but the defense received a boost when Capers moved him predominantly inside during the team's Week 9 bye.
During the Packers' first eight games, Matthews recorded 2.5 sacks and 5 tackles for loss and the defense gave up 23.9 points and 141 rushing yards per game. Since Matthews moved inside, he's recorded 8.5 sacks and 11 tackles for loss and his defense has given up 19.6 points and only 86.4 rushing yards per game.
Matthews' burst and athleticism make him a threat to disrupt opponents in their backfield, but he was often caught out of position against the run because of his aggressiveness — particularly against option plays. Moving to inside linebacker puts him off the ball enough to give him more time to diagnose plays.
Bottom Line
The Cowboys and Packers are going to move the ball Sunday and their defenses are fairly comparable.
In matchups like this, the team that wins the turnover battle usually wins the game. Aaron Rodgers is extremely protective of the football (especially at home) and the Packers defense causes enough disruption to likely spell the end of the Cowboys run this season.