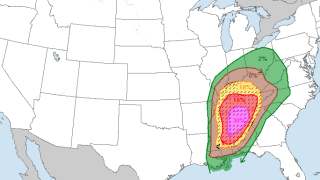 A well-known meteorologist received word his own home was hit by a powerful tornado while he was on the air.
James Spann has served as chief meteorologist at the ABC affiliate in Birmingham, Alabama, for nearly 25 years.
On Thursday afternoon, while he was warning viewers about severe weather in the area, Spann learned his house was struck by the twister.
He stepped away for about 10 minutes while another meteorologist took over.
When he went back in front of the camera, Spann said his house was hit and sustained major damage, but his wife, who was home, was OK.
Ginger Zee, a meteorologist on "Good Morning America," was an intern for Spann while in college and has remained close to him through the years. She tweeted about Spann as soon as she heard the news.
Parts of Alabama, Mississippi and Tennessee on Thursday were at high risk of strong tornadoes. At least three people were killed and multiple people were injured as a result of the severe weather, Calhoun County reported.