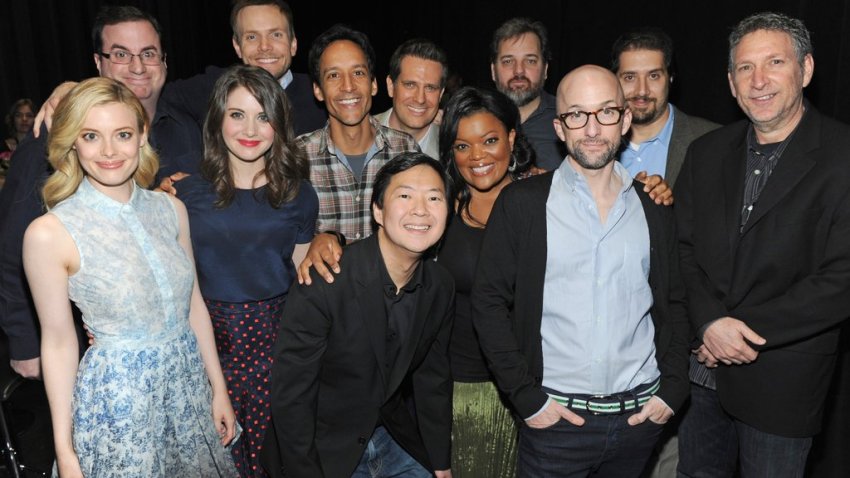 "Community's" classes are back in session! PopcornBiz assembled a study group – including Joel McHale, Yvette Nicole Brown, Alison Brie, Danny Pudi, Ken Jeong and Jim Rash – at the recent PaleyFest tribute to the series to cram on upcoming storylines (there's a "Law & Order"-style episode, Shirley remarries and someone DIES?), fan love and pulling out all the stops to make sure the funniest sitcom that not enough people are watching stays on the air.

Joel McHale: I know that someone dies. I'm going to tell you that almost EVERYONE dies. One person survives. It's a lot like that movie '28 Days Later,' except less hopeful.

Yvette Nicole Brown: Shirley has a new business venture with Pierce, she reconciles with her man, and Shirley kind of comes into her own as a member of the study group. She's more centered and less worried about what people think about her. She's fully woman now. It's great. It's been really fun to play.

Alison Brie: The 'Law & Order' episode is kind of where Annie has some good stuff. We see an Annie and Jeff pairing a bit again in that episode. Not necessarily romantically, but it's another one of those kinds of episodes.

McHale: It's pretty graphic. We should be showing it on Cinemax. I did things that I didn't think I was capable of. And we both die. I'm saying all the characters die.

Brie: Also, there's a great Annie and Abed episode that I don't want to give too much away about it, but it involves the Dreamatorium. So it gets a little kooky and it was a lot of fun for Danny and I.

Ken Jeong: There's quite a doozy coming up that no one is going to expect and people are going to love. The moment coming up for Chang is going to be my favorite moment in the entire series for Chang – it really is! I can't wait. That's from the heart. I'm not hyping it. I'm just speaking the truth. I'm laughing just thinking about it.

Jim Rash: John Goodman comes back and so I think the Vice Dean is still on the Dean. There's a lot more of him using his power to make the Dean more scared and mess up even more, so the Dean has some scrambling to save his school, basically.

Gillian Jacobs: The episodes are great – blow-your-mind awesome. Best thing you've ever seen. Britta gets to therapize people, try to work on mental art skills on people. Why are we talking about anything else other than the fact that Jim Rash won an Oscar?

Rash: Knowing Joel's humor he would probably bring me down to earth pretty fast.

Jeong: We're coming back because of the fans. The fans have spoken, and we have the best fans in the world. We're doing it for them and I know that they will watch. There's so much love out there, and you're right, there's like a special dialogue between the writers and the cast and the fans, whether it be Twitter or just walking down the street or through the show. I feel like this season has been an expression of that love, to the fans and to the show.

McHale: The fans are so rabid. They're so wonderfully devoted and it literally brings tears to my eyes, as you can see now, but their response was so tremendous. I don't think there was anything that we could've done to create what they did with the flash-mobs, with the Occupy NBC thing. It was just tremendous and I think it's just one of the reasons why we're back when we're back now.

Brie: I think that our show has always kind of been out there. I think that every year Dan Harmon and the writers push the boundaries a little bit more and a little bit more, so you could say that about this year. When we started the third season there was a lot of talk, like 'It's really going to be grounded again this year,' and I don't think that's the case at all. I think we just kind of worked our way up again, just like we did last year.

Danny Pudi: I think it's incredible that we have so much talent around us. All these people come in, and we'll be shooting an episode where maybe one day we're doing a bunch of scenes with Troy and Abed. We'll do a bunch of tags or stuff in the pillow-fort and then at the end of the day Jim Rash might come in and we'll shoot a scene in the dean's office and it's a completely new energy. So you can't help but just be excited when you have all these funny people coming in. The second that you start to get bored someone new comes in – Ken Jeong comes in and you're like, 'Well, it doesn't even matter anymore. Let's just get crazy.'

Jacobs: I don't feel like we had an agenda with the episodes. I feel like we just kept making the show. Hopefully people will get hip to the notion that 'Community' is the funniest show on TV because we're all really proud of it and we believe in it and we want everyone to discover it.

Brie: I don't know if it was a matter of trying to prove something, because we never stopped production. We continued to shoot all through the hiatus and we just wrapped, so I feel maybe more like a weight had lifted anyway that was sort of like, 'Is there any expectation right now? The show isn't being aired.' So, we were all ready to just re-embrace having fun and making something great that we love because we weren't sure if anyone was going to see it.

Brown: We used to joke all the time that we could do whatever we wanted because no one was watching. 'No one is going to see this.' So, there's a little bit of that, but we always, even when we were on the air we were trying to do the funniest show possible to get people to tune in. We felt like 'Oh, we're doing this really interesting and fun show, and five people are watching.' I know that it's more than that because I can't walk down the street without someone saying 'I love the show.' So that tells me that we have to find a better way to monitor who's watching TV, because God bless the Neilsen people, but it's not indicative of what the nation is doing. It's just not.

McHale: You can be optimistic, but you have to be realistic with network television because you just never know. The seas of network television are unpredictable. It can change at any moment. We've done 72 episodes now. We're close to the magic number of 100, or close to 100 if we do a fourth season. That's good for syndication and being sold off. Being sold to Hulu and also the international deal have been really good. But all those things said, I think the performance of the next weeks will be very telling. And we don't have any competition at eight o'clock on the Thursday nights: I'm not worried about 'American Idol,' 'Big Bang Theory' or March Madness basketball. That will be fine. I think we'll be fine, right?


"Community" returns tonight at 8 PM ET on NBC