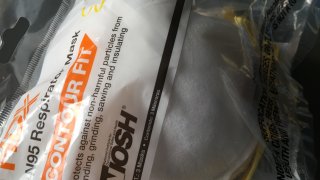 Texas prison officials said Thursday they are giving N95 medical masks to people serving time in state facilities in the El Paso area and the Panhandle, where the coronavirus has surged in recent weeks.
A spokesman for the Texas Department of Criminal Justice said it is standard procedure to give the respirators to inmates in custody in "areas that have seen a higher case load."
Prisons throughout the U.S. have struggled to contain the spread of the virus because of close living quarters.
America's largest state prison system reported more 332 active COVID-19 cases and 8 units in precautionary lockdown across Texas, including one in El Paso as of Wednesday. The El Paso-area unit has one active COVID-19 inmate case, 16 employees who have tested positive, 111 inmates in medical restriction and five inmates in medical isolation, according to the Texas Department of Criminal Justice's online case dashboard.
N95 masks are used in industrial and medical settings. They filter out 95% of all airborne particles, including ones too tiny to be blocked by regular masks.
Earlier in the pandemic, state prison factories made cotton masks that staff and prisoners could wear to help reduce the spread of the virus.
El Paso officials reported two new COVID-19 deaths, bringing the total deaths to 585, and 1,128 new positive tests on Thursday, bringing the total active cases there to more than 14,000. El Paso and Ciudad Juarez in Mexico, with a combined metropolitan population of 3 million people, represent a hotspot in the deadly comeback of the virus across the entire U.S. Health officials blaming the spike on family gatherings, multiple generations living in the same household and younger people going out to shop or conduct business.
Copyright AP - Associated Press