National Twins Day is Friday Aug. 3 this year and what a better time to celebrate the multiples in life!
Dakota and Gage had a rough start but are now 7-months-old and thriving. "They are our little miracles, who were born 6 weeks premature," said mom Kathryn Childs. "They've beaten the odds!"

Nicole Pence calls her twin sister Natalie her "life-long built-in best friend." The pair grew up loving film and went to film school at the University of North Texas. Soon they'll go their separate ways as Natalie moves to Las Vegas. "It will be the first time we've lived so far apart," said Nicole. "Gonna miss her!"

Meanwhile, Emily and Christina went their separate ways after high school. Mom Judy Boyes says Emily is majoring in journalism at Texas Tech while Christina is studying business at Texas A&M in College Station.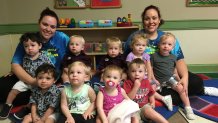 Primrose School of Northeast Flower Mound three sets of twins in one classroom, one set of triples and two teachers who also happen to be identical twins.
To celebrate National Twins Day, one North Texas preschool, the Primrose School of Northeast Flower Mound, is honoring twins with a party where they'll serve Twinkies.
Local
The latest news from around North Texas.
Email us your twin photos to iSee@nbcdfw.com (or tap the NBCDFW app) and check out the gallery above.