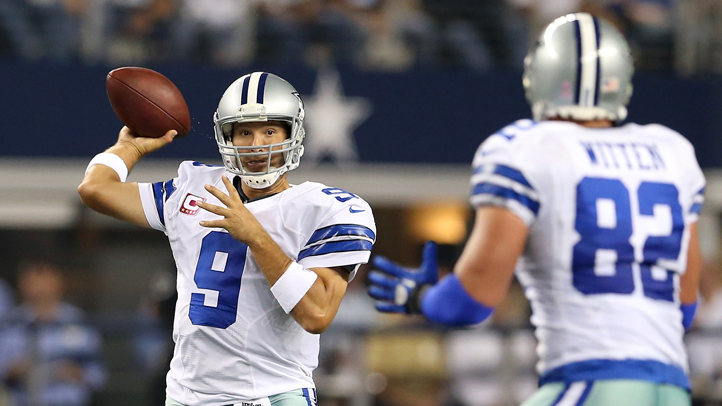 Cowboys future Hall of Fame tight end Jason Witten entered the NFL the same year with Tony Romo. Witten was selected in the third round of the 2003 draft out of Tennessee. Romo was not drafted at all.
The two have been close friends for years. Their families shared a suite at Jerry World to watch them through the years.
Romo is now retired and moving into broadcasting.
Witten posted this on Twitter. It's his thoughts on playing with Romo.
Here's a portion of his letter about #9 and how they started their friendship riding the bus from the airport to Valley Ranch, the Cowboys former headquarters:
"The days following that now-famous shuttle ride were not easy ... mostly spent being on the receiving end of colorful language from legendary coach Bill P(arcells).," Witten wrote. "Truth be told, there were many days over the next 168 months of the relationship that were faced with extreme challenges from people inside and outside of our league. However, knowing what I know now, I must say that there is no one -- and I mean no one -- I would have rather had next to me on this journey other than Tony Romo."
Local
The latest news from around North Texas.
"While history might remember [Romo] for the wins and losses, as a Houdini-like playmaker, the epic fourth-quarter comebacks, the lack of playoff wins, or the Brett Favre-esque no-look passes, I will always remember much more. No man can write his own history, and I tend to believe that over time the historians will remember Tony as one of the great signal callers of his era."
"For me, I will remember that ultra-driven athlete who worked his tail off to learn how to perfect the proper throwing motion. The player who would stand at the chalkboard tirelessly thinking through and dissecting how to block up a brutal Jim Johnson blitz. The guy who would take command at the line of scrimmage with the authority of a five-star military general all while having the charisma of Joe Namath and the competitive fire of Michael Jordan."
"Most fondly, I will remember a man with a big heart, who loved to include others and took a great sense of pride in watching them enjoy the fruits of his labor. A man with an infectious personality and a contagious smile."
Romo later responded on twitter telling Witten "you also made my life better by being in it."