A firefighter was injured as a brush fire burned more than 200 acres of fields and trees Wednesday afternoon in Parker County.
The fire was reported before 2 p.m. along Granbury Highway.
The cause of the fire, which officials said burned about 220 acres, is not yet known.
One firefighter was transported in a stable condition to Parkland Memorial Hospital in Dallas for treatment of undisclosed injuries.
More than two dozen fire trucks were involved in extinguishing and fighting the spread of the fire.
NBC 5 Meteorologists sounded the alarm Wednesday for the elevated fire danger in the area. Dry conditions and high winds have local officials concerned about the sudden spread of grass or wildfires.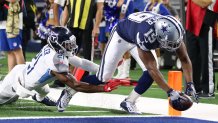 Many North Texas counties are under a burn ban, though Parker County is not yet one of them.

Local
The latest news from around North Texas.
Check back and refresh this page for the latest update. As this story is developing, elements may change.