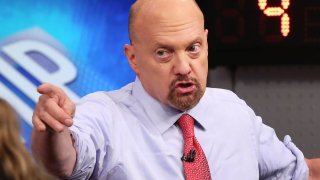 (This article was sent first to members of the CNBC Investing Club with Jim Cramer. To get the real-time updates in your inbox, subscribe here.)
What I am looking at Dec. 13, 2021:
Goldman's equity strategist Kostin notes AAPL, MSFT, NVDA, TSLA, GOOGL account for 51% of the returns since April... historically periods of sharply declining market breadth are followed by weak
returns and deeper than avg drawdowns, Goldman says...this time? trillions coming in....could persist—both equity and fixed income appear to pricing in tightens, Goldman says... They recommend owning high growth, high margin stocks

Countdown to the Fed decision Wednesday... have to expect a more harsh statement and the beginning of a tougher time being long... we are still oversold and headed into the Santa rally, but the Wednesday meeting will be the first of many not so good ones as the Fed tries to get the funds rate back to a higher level...
Pfizer (PFE)... hold to buy at UBS...notes $50B in potential Covid sales?... FCF $70B...Pfizer buys CAR T-cell company, Arena Pharma for $100 a share... gasping at this one...gastro, ulcerative colitis; Crohn's diseases; irritable bowel; atopic dermatitis...
Braze (BRZE)... Oppenheimer and Goldman initiate recent IPO with buy... OPCO says it has mastered the art of optimizing customer engagement; push stuff to users... like Twilio (TWLO)...
Deutsche Bank says don't turn your back on Logitech (LOGI)... indeed it has fallen 40% since the pandemic waned...but the company has a huge increase in its installed base, analyst notes...
Harley (HOG)... EV motorcycle unit to go public through SPAC merger...$545 million pipe of $100m...
UBS says Micron (MU) DRAM prices basing... this has been going on since the stock was in the 70s... now UBS price target $90 goes to $99
UserTesting (USER)... another new one like BRZE…only $1B market cap... another online experience provider... recent IPO initiated at all buys... tells you what customer is thinking but when I went to look at the demo it kept stopping and I moved on…not encouraging…
UBS doesn't like the pipeline of Merck (MRK) and downgrades it to hold…$98 goes to $76... might as well make it sell… cites lack of catalysts...
PE firms have done 13,000 deals globally in first 11 months—The Economist...buying wealth assets and all sorts of other businesses, many more deals in pipe... that we realize? $1.8 trillion raised...
Buybacks $234B... RBC piece-must read says these are incredibly important when factoring in the rally in the market.
Way too much emphasis placed on HOW we got to where we are in markets?... is this like Fantasy Football where some stocks just have a very high ceiling??
Broadcom (AVGO)... waiting for dividend boost and buyback has started... Barclays goes from $540 to $650; Citi $585 to $685...
General Mills (GIS) reports next week... is this a winner now (Kellogg strike)?... Deutsche Bank pt $71 goes to $72
Mizuho raises Centene (CNC) $70 to $78... keeps a neutral because of valuation...
Disney (DIS)... frustrated-would have liked West Side Story on Disney+, but only made $10.5 million at box office...really bad...KeyBanc calls stock significantly undervalued... says 10K highlights  SOTP should support shares...remains overweight.. DTC at $100B
Sweetgreen (SG)... nothing but buys for recent IPO: Morgan Stanley, Oppenheimer, Goldman Sachs...
Coca-Cola (KO)... JPMorgan goes hold to buy ... cites top-line mo; 2. profitability; 3. valuation is compelling …
Cowen names ChargePoint (CHPT), NXP Semiconductor (NXPI), Amazon (AMZN), Airbnb (ABNB), Ralph Lauren (RL) best ideas for 2022... I really like this list... RL cheap...Airbnb capturing travel...Amazon top mega pick)
Alert: do not waste your time with Red Notice... Netflix (NFLX) movie... It is an ad for gin and tequila... stars Reynolds and The Rock...
The CNBC Investing Club is now the official home to my Charitable Trust. It's the place where you can see every move we make for the portfolio and get my market insight before anyone else. The Charitable Trust and my writings are no longer affiliated with Action Alerts Plus in any way.
As a subscriber to the CNBC Investing Club with Jim Cramer, you will receive a trade alert before Jim makes a trade. Typically, Jim waits 45 minutes after sending a trade alert before buying or selling a stock in his charitable trust's portfolio. If the trade alert is sent pre-market, Jim waits 5 minutes after the market opens before executing the trade. If the trade alert is issued with less than 45 minutes in the trading day, Jim executes the trade 5 minutes before the market closes. If Jim has talked about a stock on CNBC TV, he waits 72 hours after issuing the trade alert before executing the trade. See here for the investing disclaimer.
 (Jim Cramer's Charitable Trust is long AMZN, AAPL, DIS.)
Copyright CNBCs - CNBC