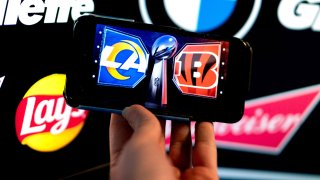 This is CNBC's live blog tracking all the ads airing during the 2022 Super Bowl. Read here to learn more about the ads and to watch them again after they debut.
The Los Angeles Rams emerged victorious against the Cincinnati Bengals in Super Bowl 56. This year's NFL championship game was expected to draw a bigger audience than last year. If that comes to pass, it will be good news for advertisers like Budweiser, Cheetos, Taco Bell, General Motors and more that are all back at the big game this year.
These Super Bowl veterans will be joined by a number of first-timers, including travel site Booking.com; cryptocurrency exchanges Coinbase Global, FTX, and Crypto.com; and health and wellness companies like Covid-19 test provider Cue Health and connected fitness equipment company Tonal.
Cue Health introduces Cue device for at-home Covid testing
While the mood of this year's advertising was more upbeat, those watching Sunday's game couldn't totally escape the ongoing coronavirus pandemic.
Cue Health introduced its Cue device to the masses with its Super Bowl spot showing off how it can be used for at-home Covid testing. Actress Gal Gadot voices the device, which introduces itself to the rest of the home's smart devices.
AdAge reported that the health care company pulled the commercial together in just eight days after deciding in late January to try to air an ad during the game.
—Amelia Lucas
A new trailer for 'Doctor Strange in the Multiverse of Madness'
The next installment in the Marvel Cinematic Universe arrives on May 6. Disney promoted the upcoming film "Doctor Strange in the Multiverse of Madness" during Sunday's game.
Following the events of "Spider-Man: No Way Home" and the first season of "Loki," Dr. Stephen Strange travels into the multiverse to face a new adversary.
In addition to Benedict Cumberbatch as Doctor Strange, the new MCU film brings back Elizabeth Olsen as Wanda Maximoff, Benedict Wong as Wong, Rachel McAdams as Christine Palmer and Chiwetel Ejiofor as Karl Mordo.
The film is also expected to mark the debut of Xochitl Gomez as America Chavez.
— Sarah Whitten
Skechers taps musician Willie Nelson for 2 Super Bowl ads that emphasize comfort
Skechers aired two different commercials during the Super Bowl, both of which star musician Willie Nelson, to emphasize how comfortable its sneakers are.
In one commercial, Nelson's hit song "On the Road Again" is playing as various people of all ages are wearing Skechers as they do day-to-day activities such as skateboarding, going for a run and walking the dog. In the other spot, Nelson himself is pleading to legalize Skechers, which he thinks are illegal because they are so comfortable.
This will, notably, mark the ninth time that Skechers has advertised during the Super Bowl since its first spot in 2010.
—Lauren Thomas
Netflix touts its 2022 movie slate and 'The Adam Project'
Netflix is flexing. The streaming service released a spot on Sunday detailing its upcoming slate of new films for 2022.
The teaser included clips of Kevin Hart and Mark Walhberg in "Me Time," Millie Bobby Brown in "Enola Holmes 2," Daniel Craig in "Knives Out 2," Ryan Gosling in "The Gray Man," as well as Charlize Theron and Kerry Washington in "The School for Good and Evil."
The advertisement also featured a look at Shawn Levy's new time travel adventure film "The Adam Project" featuring Ryan Reynolds, Mark Ruffalo, Jennifer Garner and Zoe Saldana.
— Sarah Whitten
Coinbase's bouncing QR code spot appears to have crashed its app
For its Super Bowl ad, Coinbase chose to show a colorful QR code moving on the screen, similar to the bouncing DVD logo. Viewers who scanned the QR code were led to Coinbase's website. The ad appears to have led to massive traffic to the company's app, which was down temporarily after it aired.
—Amelia Lucas
E-Trade brings its baby back from 'Off the Grid'
E-Trade is back for its second consecutive Super Bowl. The commercial touches on the current themes in the financial markets, at one point joking about consumers taking their advice from memes.
The online trading platform showcased its newly evolved logo, which now includes Morgan Stanley's light blue along with E-Trade's signature purple, to symbolize last year's deal that joined both companies.
-Maia Vines
DraftKings' debuts a spokescharacter in 'Fortune: Life's a Gamble'
DraftKings introduced a new character this year, the Goddess of Fortune, a bold risk-taker whose motto is "Life's a Gamble."
NFL legend, Joe Namath — who spent his final year in the league as a quarterback for the Los Angeles Rams — even makes an appearance in this action-packed ad, created by VaynerMedia.
-Maia Vines
Budweiser and its iconic Clydesdale horse return to Super Bowl
Budweiser opted not to run a Super Bowl ad in 2021, but its iconic Clydesdale horse returned this year. The spot directed by Oscar winner Chloe Zhao is meant to pull at viewers' heartstrings with its inspirational message. The spot shows the horse recovering from an injury with help from a canine friend. It ends with the words "Down Never Means Out" flashing on screen.
It's one of six ads that parent company Anheuser-Busch InBev will run nationwide during the Super Bowl this year.
—Amelia Lucas
Greenlight ad shows Modern Family's Ty Burrell breaking the bank
Modern Family actor Ty Burrell serves as a bad example for financial wellness in Greenlight's spot. Burrell buys everything from a pegasus to a jetpack before going broke, while a watching father tells his children that's why they use Greenlight to teach financial literacy.
—Amelia Lucas
Walmart-owned Sam's Club debuts first Super Bowl ad
Walmart-owned Sam's Club tapped actor and comedian Kevin Hart to star in its first Super Bowl ad.
The membership-based warehouse club touted a feature in the ad that's gained popularity during the pandemic: Scan & Go, which lets shoppers ring up their own purchases with a smartphone and skip the checkout line.
In the TV commercial, Hart struts around the store and refers to his VIP status — not realizing that every other customer can use the same Scan & Go app, too.
—Melissa Repko
Quickbooks spotlights its financial resources for new businesses
Quickbooks', which is owned by Intuit, aired its first-ever Super Bowl ad. The 30-second spot features DJ Khaled and focuses on the financial resources it provides to new businesses. Quickbooks is partnering with sister brand Mailchimp to assist in starting and growing new businesses. Intuit has previously predicted that 17 million new businesses will start this year.
"From excitement and confidence in their craft to anxiety and uncertainty about how to manage critical business operations, the ad blends this emotional journey with humor helped by DJ Khaled," Dan McCarthy, senior vice president at Intuit, said in a statement.
—Maia Vines
Hellmann's commercial spotlights food waste with former NFL linebacker Jerod Mayo
Hellmann's pun-heavy ad puts the spotlight on food waste. The spot shows former NFL linebacker and current New England Patriots inside linebackers coach Jerod Mayo tackling consumers — including Saturday Night Live star Pete Davidson — who are trying to throw away food.
The Unilever mayonnaise brand cited the Super Bowl as one of the biggest food holidays, which can often lead to overbuying and waste.
—Amelia Lucas
Taco Bell's spot stars Doja Cat breaking out of clown school
After a five-year absence, Taco Bell is back in the Big Game, this time with a spot starring rapper Doja Cat. The ad starts with Doja and her classmates at a clown school called Clown Conformus before they break out and head to Taco Bell. The commercial seems to be yet another shot at rival McDonald's and its clown mascot from the Yum Brands chain.
The spot also uses Doja's cover of Hole's hit song "Celebrity Skin," with reworked lyrics in partnership with Courtney Love.
—Amelia Lucas
Eugene Levy gets a makeover in Nissan's first Super Bowl ad in 7 years
Nissan Motor returned to Super Bowl advertising after a seven-year hiatus with a star-studded commercial led by "Schitt's Creek" co-creator and actor Eugene Levy.
The 60-second spot features the Emmy-winning actor driving a new Nissan Z sports car borrowed from Marvel Cinematic Universe actress Brie Larson.
Levy, dressed in a suit and tie, gets off to a rough start with the car. But it doesn't take Levy too long to become quite comfortable behind the wheel. So much so that he transforms into an action movie star with long hair, tattoos and a black leather jacket.
-- Michael Wayland
Booking.com's airs debut Super Bowl ad as it tries to unlock the desire to travel again
Booking.com is reviving its "Booking.yeah" campaign of 2013 with its first-ever Super Bowl commercial, starring actor and director Idris Elba.
The company, which owns Kayak, Priceline and OpenTable, is trying to look past the pandemic.
"You can feel there's a tremendous amount of desire to travel right now," said Glenn Fogel, CEO and president of Booking Holdings, the parent company of Booking.com, in an interview. "We think this is a great time to reintroduce Booking.com and bring forward this lighthearted idea of travel."
— Sarah Alessandrini
Irish Spring's soap has a cult following in its Super Bowl debut
Colgate-Palmolive's Irish Spring soap made its Super Bowl debut with an ad that quickly turns chilling. With strong cult-like and Celtic undertones, Irish Spring locals force a foul-smelling visitor to bathe in the commercial, which also includes a talking rabbit. The spot showcases the soap's new branding, which includes a new logo and packaging.
—Amelia Lucas
Vroom taps 'La La Land' choreographer for Broadway-style pizzazz
Online used-car retailer Vroom's 30-second ad features a Broadway musical-style song and dance routine choreographed by "La La Land" dance choreographer Mandy Moore.
The spot called "Flake" continues Vroom's theme from its first-ever Super Bowl ad last year about "flipping" car buying and selling on its head — but in an upbeat and livelier way. Vroom's 2021 ad focused on the pressure of purchasing a vehicle through a traditional car dealer, almost to the point of torture.
-- Michael Wayland
Canned cocktail brand Cutwater Spirits salutes the lazy ones in Super Bowl debut
Canned cocktail brand Cutwater Spirits took inspiration from Apple's famous "Here's to the crazy ones" campaign for its Super Bowl spot. Cutwater's commercial salutes the lazy ones "who work smarter, not harder." Aside from the brand's colored cans, the ad is black and white.
It's the first Super Bowl ad for the canned cocktail brand, but one of six ads that parent company Anheuser-Busch InBev will run nationwide during the game for its portfolio.
—Amelia Lucas
Amazon's 'Mind Reader' answers the question: 'What if Alexa could read your mind?'
What if Alexa could read your mind? Amazon's big game commercial features Scarlett Johansson and Colin Jost at home on game day, imagining if Alexa had the power to read minds. It doesn't take long before the celebrity couple decides it's probably better that the virtual assistant cannot.
Amazon is known for its star-studded ads, like last year's Super Bowl commercial "Alexa's Body" with actor Michael B. Jordan which fostered national engagement.
Last month, NASA announced plans to send Alexa to the moon as part of Artemis I, the first of several NASA missions intended to land the first woman and the first person of color on the Moon, according to Amazon.
— Maia Vines
T-Mobile reunites 'Scrubs' stars Donald Faison and Zach Braff
T-Mobile reunited Scrubs stars Donald Faison and Zach Braff in a musical ad promoting the company's internet service. It's the third spot for T-Mobile during the game, although the previous two have focused on the company's 5G phone service.
—Amelia Lucas
Social investing platform eToro spotlights cryptocurrency enthusiasts
Social investing platform eToro made its first Super Bowl foray with a spot showing a consumer reaching out for advice on cryptocurrency. Crypto enthusiasts descend from the sky with advice and support for him.
—Amelia Lucas
Kia returns to Big Game to promote EV6
After a one-year hiatus, Kia returned to Super Bowl advertising with a 60-second ad featuring a robotic dog seeking an owner who drives the automaker's new all-electric Kia EV6.
-- Michael Wayland
Mike Myers returns as Dr. Evil in General Motors ad
General Motors' ad stars actor and comedian Mike Myers reclaiming his role as Dr. Evil from the "Austin Powers" spy comedy trilogy. It also features his sidekicks, played by Rob Lowe, Seth Green and Mindy Sterling.
The villains seize GM's headquarters to take over the world but first decide to fight climate change with the help of the automaker's new electric vehicles.
-- Michael Wayland
Bud Light Seltzer introduces hard soda line with help from Guy Fieri
Bud Light Seltzer is hoping celebrity chef Guy Fieri will help convince consumers that its new hard soda line has "the loudest flavors ever" in its Super Bowl spot.
The commercial, which the brand says will mark Fieri's first-ever Super Bowl ad appearance, plays off of the Food Network host's well-known catchphrase: "Welcome to Flavortown." The spot shows partygoers reaching into a fridge that takes them to the "Land of Loud Flavors," where Fieri is the mayor.
"These are big launches, so to be able to have the platform of the Super Bowl with a product like that and Guy Fieri ... is really special for us," said Andy Goeler, vice president of marketing for Bud Light.
Parent company Anheuser-Busch InBev is running six commercials nationwide during the Super Bowl for its products, including Bud Light's new zero-carb beer.
—Amelia Lucas
Amazon Prime Video: 'The Rings of Power' teaser
The most expensive television show in history has released its first teaser.
Amazon Studios' "Lord of the Rings" series "The Rings of Power" — which reportedly cost a whopping $465 million to make — is set during author J.R.R. Tolkien's second age, a period of Middle-earth history thousands of years before the events of "The Hobbit" and "The Lord of the Rings."
Exact plot details are scarce, but Amazon has said the show will follow an ensemble cast of characters. Those that have read Tolkien's "Silmarillion" will know that Sauron, the main villain in the theatrical films, rose to power during the second age and secretly forged the One Ring.
The series will begin streaming on Prime Video on Sept. 2.
— Sarah Whitten
Pringles imagines a life with a hand stuck inside the chips' iconic can
For its Super Bowl ad, Pringles has a comedic take on a common problem: consumers getting their hand stuck in the chip's packaging. The Kellogg brand's spot shows a man flash-forwarding through his life — and death — after getting his hand stuck inside the Pringles can while Lionel Richie's "Stuck on You" plays.
—Amelia Lucas
Lay's potato chips remind Seth Rogen and Paul Rudd of their good times together
PepsiCo's Lay's potato chips make their Super Bowl ad debut in a spot starring tuxedo-clad actors Seth Rogen and Paul Rudd. Rogen and Rudd eat the chips while reminiscing over some memorable moments, like singing along to Shania Twain together and being kidnapped by a stalker.
—Amelia Lucas
Planet Fitness' ad asks 'What's Gotten Into Lindsay?'
Planet Fitness, which recently closed an $800 million acquisition of Sunshine Fitness, makes its Super Bowl debut with "What's Gotten Into Lindsay?"
William Shatner narrates the the 30-second commercial, which shows "Mean Girls" actress Lindsay Lohan getting sharper, sleeping better and becoming more productive by going to the gym.
Last September, Planet Fitness partnered with Publicis Groupe's Team Lift to consolidate the fitness center's 16 former agencies to one.
— Maia Vines
Lizzo debuts 'If you love me' in Google's Pixel 6 ad
Google's Super Bowl ad starring award-winning artist Lizzo featured her unreleased song, "If you love me."
The minute-long spot showcased Google's Pixel 6 camera with Real Tone, an algorithm that highlights the nuances of diverse skin tones. The ad seeks to draw attention to the lack of image equity in camera technologies that have not always accurately worked on all skin tones.
The ad marks Google's return to the Super Bowl after skipping last year. The ad features photos shot on the Pixel 6 by director Joshua Kissi and contributing photographers Deun Ivory and Aundre Larrow.
— Sarah Alessandrini
Jim Carrey returns as the Cable Guy in Verizon spot
Comedian Jim Carrey reprises his role from the 1996 movie "The Cable Guy" in Verizon's spot. Actress Geraldine Viswanathan stars as a consumer who has switched to Verizon internet and turns down Carrey's assistance.
—Amelia Lucas
Toyota Tundra spot shows friendly race between the Joneses — and Nick Jonas
Nick Jonas tries to keep up with the Joneses in Toyota's second spot of the game. Singer Jonas joins Tommy Lee Jones, Rashida Jones and Leslie Jones in a race in their Toyota Tundras.
—Amelia Lucas
Software start-up ClickUp makes a 'Declaration' with its airtime
ClickUp, a start-up selling project-management software, is running its first ad during the big game this year. The 30-second commercial will appear during the third quarter in 14 markets around the U.S.
Based in San Diego, California, ClickUp spent $5 million on the ad, which it produced without the help of an agency, said its chief creative officer, Melissa Rosenthal. The skit depicts the Founding Fathers trying to find their latest version of the Declaration of Independence.
"It takes boldness to assume your product saved the country, effectively, but that was kind of this bold statement we wanted to make," Rosenthal said.
Start-ups have previously used the top football game of the year as a way to get the word out, and some of them didn't survive for long. ClickUp, which was valued at $4 billion in a funding round announced in October, has placed ads on billboards and buses in technology-centric markets such as San Francisco. It views Sunday's commercial as its next big step.
"Would we have done this if we felt like this would put the company in a bad financial situation? No," Rosenthal said.
—Jordan Novet
Tonal's first-ever Super Bowl ad stars Serena Williams, aims to reach women
Tonal, maker of a $2,995 at-home gym, is debuting its first-ever Super Bowl this year as competition in the connected fitness industry heats up.
Tonal's 30-second spot stars tennis champion Serena Williams, who was also an early investor in the company. In the ad, Williams is using Tonal's wall-mounted strength-training machine, and saying: "Never be afraid of your strength, because your body is capable of amazing things. ... Own your strength, and see how far it takes you."
Gina Hardy, Tonal's senior vice president of brand and product marketing, told CNBC that the company hoped to reach more women with its commercial, which is part of a broader campaign.
—Lauren Thomas
Miley Cyrus sings charity song dedicated to 5G phones in T-Mobile's second spot
T-Mobile's second ad of the game shows singer Miley Cyrus creating a faux-charity song for 5G phones. Godmother and singer Dolly Parton starred in T-Mobile's first spot and inspires Cyrus's songwriting in the second.
—Amelia Lucas
Cryptocurrency exchange FTX takes aim at skeptics
Comedian Larry David plays a time-traveling skeptic in FTX's Super Bowl debut. David disparages everything from the wheel to space travel to cryptocurrency in the spot, which ends with a message: "Don't be like Larry."
—Amelia Lucas
Uber Eats confuses celebrities with inedible delivery items
Uber Eats confuses celebrities and regular consumers alike by delivering products that can't be eaten, like diapers and aluminum foil. Celebrity cameos include Gwyneth Paltrow, Jennifer Coolidge, Trevor Noah and Nicholas Braun.
—Amelia Lucas
Monday.com's tries to defy gravity in 'Work Without Limits'
Monday.com debuted "Work Without Limits" in the first half of the game in a number of major markets.
Last month, the software company released a behind-the-scenes clip for its first-ever Super Bowl ad.
-Maia Vines
'Community' stars Ken Jeong and Joel McHale team up in Planter's 'All or One'
Planter's ad starring actors Ken Jeong and Joel McHale aired just before halftime. The actors debated the proper way to eat peanuts, all together or one at a time. The campaign includes an online quiz that analyzes what a person's peanut-eating preference says about them.
Kraft Heinz sold Planters to Hormel, the maker of Spam, for $3.35 billion last year. Planters worked with ad agency VaynerMedia, who was also responsible for the company's Super Bowl ad two years ago.
Planter's skipped out on a Super Bowl ad last year and, instead, donated the $5 million it would have spent to charity. In 2020, Planter's killed off its mascot Mr. Peanut to tease its Super Bowl spot, featuring the birth of the company's new mascot, Baby Nut.
— Sarah Alessandrini
Rocket Mortgage and Anna Kendrick help Barbie buy her Dreamhouse
Actress Anna Kendrick helps Barbie buy her Dreamhouse and fight off other buyers in Rocket Mortgage's spot. He-Man and Ken also make cameos.
—Amelia Lucas
Michelob Ultra Organic Seltzer returns to the bowling alley with golfer Brooks Koepka
Michelob Ultra Organic Seltzer's commercial takes a relatively straight-forward approach to selling the drink, focusing on the seltzer's lack of calories and carbs. The spot shows golfer Brooks Koepka conferring with his caddy on what to order at the bar of the Super Bowl, a fictional bowling alley.
It's the second part of a three-part Super Bowl series from the Anheuser-Busch InBev brand that takes place at the bowling alley. The third ad, which is for Michelob Ultra Pure Gold, will only air regionally. The ad marks the second time that the seltzer has advertised at the Super Bowl.
Wallbox 'Can Seth embrace electricity again?'
The first Super Bowl ad for Wallbox, a provider of electric vehicle charging and energy management products, follows Seth Thomas, a lightning strike survivor from Durham, North Carolina, as he overcomes his fears to embrace electricity with the help of the company's products.
-- Michael Wayland
Turkish Airlines tries to bring the world closer together in 'Pangea'
Nearly two years into the pandemic, borders are reopening and Turkish Airlines is back with its first Super Bowl ad since 2020 in hopes of reigniting demand for long-haul international travel.
"Pangea," is Turkish's sixth Super Bowl ad. It's narrated by Morgan Freeman, who says while the supercontinent has been gone for hundreds of millions of years "today there is still a force connecting those divided by distance, reversing millions of years of rifting, making far feel close, bringing there to here."
The 30-second ad ends on people embracing and computer-generated images of continents rejoining along with a message that says "We connect more countries than any other airline."
—Leslie Josephs
Gillette returns to the Super Bowl for the first time in 16 years
Procter & Gamble's Gillette returned to the Super Bowl for the first time in 16 years with a spot that highlights GilletteLabs razor, which comes with an exfoliating bar to remove dirt and debris from the skin. It's among the few Super Bowl ads to eschew celebrity cameos, instead focusing on the product itself.
P&G's shaving business has been under pressure in recent years from start-ups that promise lower prices and better quality, as well as men's beard trends.
—Amelia Lucas
Caesars Sportsbook's 'Sit Down Dinner'
In Caesars Sportsbook's debut commercial, actor J.B. Smoove, as Caesar, and Halle Berry, as Cleopatra, host a star-studded dinner party, with guests like Peyton and Eli Manning in attendance.
-Maia Vines
WeatherTech turns installing car accessories into a 'Special Ops' mission
WeatherTech's 30-second Super Bowl ad turns installing simple car accessories such as floor liners, mudflaps and phone cup holder into a highly trained mission, led by the company's "FitCrew."
-- Michael Wayland
Hologic focuses on women's health with halftime show performer Mary J. Blige
Hologic used its Super Bowl ad to focus on women's health in a spot that features singer and halftime show performer Mary J. Blige making time for her annual doctor's visit. It's the medical device company's first-ever national campaign.
A 'Sopranos' reboot promotes Chevy's Silverado
Chevrolet's surprise "New Generation" Super Bowl ad likely caused whiplash among fans of the HBO's hit show "The Sopranos," which aired from 1999-2007.
The General Motors brand rebooted and updated the introduction sequence of the show to feature the daughter of Tony Soprano instead of the mob boss, played by the late James Gandolfini. In addition to the character switch, Meadow Soprano, played by Jamie-Lynn Sigler, is driving the automaker's new electric Chevrolet Silverado instead of her father's 1999 Chevrolet Suburban SUV.
The 60-second ad features many of the same shots as the original introduction, with the addition of more shots of the vehicle as well as some updates such as a lollipop for Meadow instead of a cigar like her father had.
—Michael Wayland
Michelob Ultra leans on star power and Super Bowl pun in bowling-themed spot
Michelob Ultra's commercial makes use of star power and a Super Bowl pun for its bowling alley-themed spot. The ad shows actor Steve Buscemi, who played a bowler in "The Big Lebowski," behind the counter at the alley, which is frequented by top sports stars. Peyton Manning, Serena Williams, Jimmy Butler, Nneka Ogwumike, Brooks Koepka and Alex Morgan also star in the ad.
It's the first part of Michelob Ultra's three-part Super Bowl series for the brand. The Anheuser-Busch InBev brand is also running a national ad for Michelob Ultra Organic Seltzer and a regional ad for Michelob Ultra Pure Gold.
—Amelia Lucas
Meta tries to conjure up nostalgic feelings in 'Old Friends, New Fun'
Meta made an appeal to viewers' nostalgic side as it uses the Super Bowl as a platform to promote its rebranding.
The 60-second ad aired takes place at a fictional restaurant called Questy's, where two old friends who had grown apart are able to reunite with the help of Quest 2 and Horizon Worlds.
Meta Reality Labs and Meta's ad agency Anomaly LA produced the ad. The company, formerly known as Facebook, didn't air an ad during last year's big game.
Meta is also hosting a virtual reality Foo Fighter's concert in Horizon Venues after the big game.
— Sarah Alessandrini
Cheetos and Doritos' Flamin' Hot flavor gives animals the ability to talk
Frito-Lay put the spotlight on its Flamin' Hot flavor with a commercial that promoted both its Cheetos and Doritos chips. Jungle animals eat the spicy chips and gain the ability to talk, sing and beatbox. Rapper Megan Thee Stallion, voicing a songbird, starts rapping Salt-N-Pepa's "Push It," while singer Charlie Puth beatboxes as a fox.
The PepsiCo snack division is also running an ad for Lay's chips during the game.
An 'Oversharing Mom' raves about Carvana in first Super Bowl spot
Carvana's first-ever Super Bowl commercial follows an "Oversharing Mom," also the title of the ad, as she brags about her experience about purchasing a car though the online used vehicle retailer. She talks about it to her son, her hairstylist and everyone in-between.
—Michael Wayland
Expedia's 'Stuff'
Expedia aired its first Super Bowl ad in over a decade during the first quarter of the game. The 30-second ad starred Ewan McGregor, delivering the message that in life, experience is greater than material things.
The company is giving away 20 trips in the form of rewards points valued at $5,000 with one grand prize of $25,000. Only rewards members are eligible to win.
— Sarah Alessandrini
EV start-up Polestar takes aim at Elon Musk and Volkswagen
Electric vehicle start-up Polestar, which is expected to go public this year, used its first-ever Super Bowl ad to indirectly take shots at its competitors, including Tesla and Volkswagen.
The 30-second spot, called "No Compromises," is simple and to the point. It features shots of the company's Polestar 2 electric vehicle with the word "No," followed by words and phrases directed at other traditional Super Bowl commercials and car companies. It ends at "No. 2" and then "Polestar 2," the company's electric performance car.
Words following "No" during the ad range from general terms such as "epic voiceovers" and "dirty secrets" to "dieselgate" – referring to a former diesel emissions scandal with Volkswagen – and "conquering Mars" – an indirect critique on Tesla and its CEO Elon Musk, who plans to land humans on Mars by 2026.
-- Michael Wayland
Avocados from Mexico gives tailgating a classical twist
After sitting out in 2021, Avocados from Mexico is back to promoting its exports during the Super Bowl. Football fans will recognize the tailgate backdrop, but the trade group gives it a classical twist, setting the commercial in ancient Rome outside the Colosseum. Comedian Andy Richter stars as a salad-loving Julius Caesar.
—Amelia Lucas
BMW 'Zeus & Hera'
Arnold Schwarzenegger and Salma Hayek Pinault star as retired Greek gods in a 60-second Super Bowl ad for BMW's new iX electric vehicle.
The ad features the former California governor and actor as Zeus. The god of the sky and king of the ancient Greek gods is having trouble adapting to his new life of leisure. Hayek as Hera, the goddess of women, marriage, family and childbirth, is having a much easier time.
The ad was developed by San Francisco-based agency Goodby Silverstein & Partners. It is the first time BMW has advertised in the big game in seven years.
—Michael Wayland
Bud Light Next incorporates NFTs and the metaverse in its introductory ad
Bud Light Next contains zero carbs, so the new Anheuser-Busch InBev beer chose to focus its spot on "zero in the way of possibility," from in-person encounters to the digital world. The spot incorporates a token from the Bud Light's NFT collection and a musical performance that takes place in the metaverse.
Bud Light's Vice President of Marketing Andy Goeler said in an interview that the commercial is a tribute to people who are pushing boundaries. Aside from the Bud Light Next spot, AB InBev is running five other commercials nationwide during the Super Bowl.
Disney+ debuts Marvel's 'Moon Knight' trailer
Fans of the Marvel Cinematic Universe got another look at Oscar Isaac in "Moon Knight" during the big game on Sunday.
The new Disney+ series is set to being airing episodes on March 30 and centers on Marc Spector, a mercenary who suffers from dissociative identity disorder, who is drawn into a deadly mystery involving Egyptian gods alongside his multiple identities, including Steven Grant.
Ethan Hawke stars as Arthur Harrow, a cult leader who encourages Spectro to embrace his inner darkness, and the late Gaspard Ulliel portrays Anton Mogart, aka Midnight Man.
— Sarah Whitten
'Ted Lasso' actress Hannah Waddingham stars in Rakuten's first-ever Super Bowl spot
Online retailer Rakuten Rewards snagged "Ted Lasso" star Hannah Waddingham to play a game of poker, in the company's first-ever Super Bowl ad.
The 30-second spot, called "High Stakes," shows Waddingham raising the stakes against another female player at the poker table. And each time, the other player is able to top what Waddingham wages in the center of the table. Finally, the other player raises the stakes with all of the cash back she earned from Rakuten.
Waddingham responds by storming off, and a naked cat is seen moving across the poker table on the back of a robot vacuum.
Dana Marineau, chief marketing officer of Rakuten Rewards, said the company hopes its commercial, along with a broader campaign following the Super Bowl, will help the e-commerce company raise greater awareness among consumers in the United States.
"We want people to feel you always win when you shop with Rakuten," she said in an interview.
—Lauren Thomas
T-Mobile and Dolly Parton urge consumers to rescue their 5G phones from Verizon and AT&T
T-Mobile's Super Bowl spot takes aim at rivals Verizon and AT&T. In a parody of public service announcements, country music legend Dolly Parton urges consumers to switch to T-Mobile so their 5G phones can be used in more places. Singer Miley Cyrus also makes an appearance at the end in a video call with Parton, her godmother.
Zendaya stars in Squarespace's 'Everything to shell everything'
Squarespace extended its "Everything to Sell Anything" campaign for its Super Bowl ad starring Zendaya.
The 30-second ad, which aired in the first quarter of the game, features the Euphoria actress using Squarespace to promote her seashell business. Squarespace launched its "Everything to Sell Anything" campaign in September 2021.
— Sarah Alessandrini
Toyota tugs at the heart in inspiring Super Bowl ad
Toyota's 60-second Super Bowl ad continues the automaker's heart-tugging, inspiring messaging featuring Paralympic athletes. The "Brothers" spot follows the relationship of two real-life brothers – Brian McKeever, Canada's most decorated Winter Paralympian, and Robin McKeever, an Olympian in cross-country skiing and Paralympic guide and coach – through their lives and athletic careers.
Despite an untreatable degenerative eye condition, the brothers continue to train together, which eventually leads Robin to compete at the Olympic Winter Games, and both brothers to compete at the Paralympic Winter Games with Robin serving as Brian's guide.
—Michael Wayland
Universal showcases 'Jurassic World: Dominion' trailer
Universal Pictures showcased the new trailer for "Jurassic World: Dominion" on Sunday.
The film, due out in June, takes place four years after "Jurassic World: Fallen Kingdom," in which audiences saw genetically enhanced dinosaurs let loose into the public after a botched auction.
"Dominion" brings back Chris Pratt as raptor trainer Owen Grady as well as Bryce Dallas Howard's Claire Dearing, a park operations manager of the Jurassic World theme park. It also rounds up the original cast of the Jurassic Park franchise, Sam Neill, Laura Dern and Jeff Goldblum.
—Sarah Whitten
Fewer companies making a Super Bowl debut than last year
Fewer advertisers are making their Super Bowl debut in this year's game. Numbered at more than a dozen, the newbies draw heavily from the financial technology and cryptocurrency sectors as well as gaming and health and wellness.

For the crypto-focused companies, the Super Bowl is a chance to build a brand and gain awareness among a broader audience. That's the bet companies like Coinbase Global, FTX, eToro and Crypto.com are making.
Other companies making their debut include electric vehicle charger maker Wallbox, Caesars Sportsbook, Tonal and Planet Fitness. Health and wellness is actually a big theme among the advertisers this year. Other companies in this sector include Cue Health, which makes at-home Covid tests, and medical technology company Hologic, which will include singer and halftime show performer Mary J. Blige in its ad.
As newcomers join, some Super Bowl veterans are staying on the bench this year. Among those not advertising in this year's game are Coca-Cola, Hyundai, Mars and Tide.
—Christina Cheddar Berk
Big bets on the Super Bowl could bring a bigger audience
The 2022 Super Bowl is expected to bring in a record audience this year, and one of the factors driving that prediction is an increase in betting on the big game.
PredictHQ told CNBC it is estimating the National Football League's championship game will attract 117 million viewers on Sunday. Last year's game drew the smallest audience since 2007.
A bigger audience will be good news for companies advertising during the game. On average, companies spent about $6.5 million on a 30-second Super Bowl ad this year.
—Christina Cheddar Berk
It's ok to be lighthearted agan
Last year a number of advertisers bowed out of the big game. The problem was it was difficult to gauge what the right tone would be in the midst of the pandemic. This year, companies are giving themselves more leeway and bringing humor back.
One strategy is to lean heavily into nostalgic themes.

"Nostalgia is a really good way to tap into positive memories that large portions of viewing audience will have," Mitchell Olsen, assistant professor of marketing at the University of Notre Dame's Mendoza College of Business told CNBC. "It's an opportunity to attach your brands with some of those positive associations."
The audience better have a good memory of the ′80s and ′90s because many of the ads drawing from these decades for material and music, including General Motors' "Austin Powers" revival.

T-Mobile's commercial also taps an iconic TV show by reuniting "Scrubs" actors Zach Braff and Donald Faison in a musical number, but that show isn't as far in the past.
—Christina Cheddar Berk
If you want a head start watching the ads, it's easier than ever
The Big Game will get underway at 6:30 p.m. on NBC and be streamed on Peacock. It's also available on NBCSports.com and the NBC Sports app.

Although this blog will be tracking advertisers' commercials from the coin toss until the game ends, it was easier than ever to get a sneak peek at this year's ads. More than 40 companies pre-released commercials this year, which was up from last year.
Judging from what we've seen so far, this year's ads are leaning heavily into humor, nostaglia and celebrities to grab viewers' attention.
Several automakers have already offered us glimpses of their commercials, including BMW, which is back for the first time since 2015 to pitch its new iX electric vehicle. Arnold Schwarzenegger and Salma Hayek Pinault star as Greek gods the 60-second spot.
Travel advertisers are back as well. After two years of disruption brought on by the Covid-19 pandemic, these companies are ready to tap into pent-up demand for big vacations. Booking.com will have its first-ever Super Bowl ad, starring actor and director Idris Elba. Both Booking and its rival Expedia are using giveaways to stir up excitement on Sunday.
Tennis superstar Serena Williams is featured in Tonal's first ad during the big game, while celebrity chef Guy Fieri will be promoting Bud Light Seltzer's new line of hard sodas.
—Christina Cheddar Berk
Disclosure: Comcast's NBCUniversal is the parent of CNBC.
Copyright CNBC