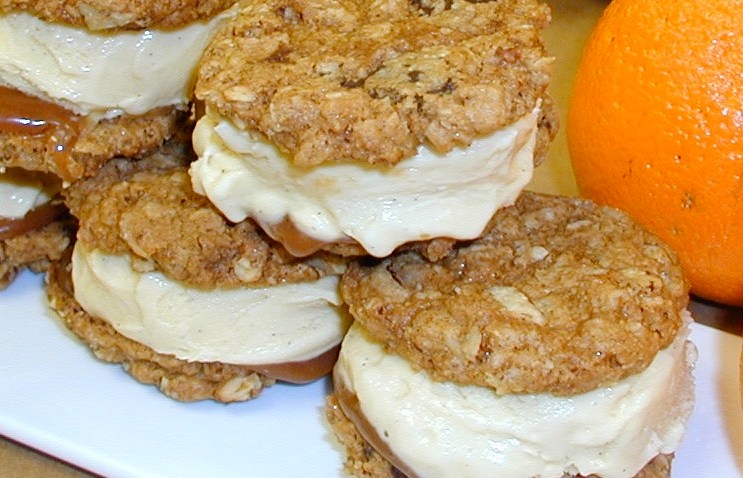 This ain't just any ol' tailgate party.

Tempting football fans and foodies alike with famous faces, live music and dishes from some of North Texas' most celebrated chefs, Taste of the NFL: The Ultimate Dallas Cowboys Tailgate Party will be a gourmet night to remember. Benefitting the North Texas Food Bank, this "party with a purpose" at the Gaylord Texan's Glass Cactus Restaurant is one of the hottest tickets of the season.

You'll have to wait 'til Sunday April 25 to tackle the full tailgate experience, but we've got a little something to whet your appetite today. Pastry Chef Laurel Wimberg of Craft Dallas will be serving her Chocolate Chip Oatmeal Ice Cream Sandwiches at the event, and with the following recipe you can sample the sinful treats tonight. Enjoy!

Chocolate Chip Oatmeal Ice Cream Sandwiches
with Orange Caramel

For the Ice Cream:

3 cups half & half
1 vanilla bean, scraped
½ tsp. salt
8 egg yolks
¾ cup sugar

Gently heat half & half in a large saucepan with the vanilla bean, scrapings and salt until scalding. Whisk together the yolks and sugar in a separate bowl and immediately start whisking in the hot liquid a little at a time until it is all combined. Pour the custard back into the pot and gently heat to steaming again, stirring constantly. Strain the hot custard and chill in an ice bath. Once chilled, churn in an ice cream machine according to the manufacturer's instructions.

For the Orange Caramel:

½ cup sugar
2 tbsp. water
¼ cup light corn syrup
2 tbsp. soft butter
¾ cup heavy cream
Pinch salt
Dash vanilla
Drop vinegar
Zest of 1 orange

Stir together the sugar and water in a medium saucepan and cook over medium high heat (covered) until the mixture starts to caramelize. Remove the lid and gently swirl the pot until the overall color is a uniform deep caramel brown. Turn the heat down to medium and carefully whisk in the corn syrup, followed by the butter and cream. (The caramel may seize up, but just continue heating it and stirring gently to smooth it out again.) Stir in the salt, vanilla, vinegar and zest. Strain the hot caramel into a heat-proof container to cool. Once cooled, refrigerate until you are ready to assemble the sandwiches.

Chocolate Chip Oatmeal Cookies:

6 tbsp. soft butter
3 tbsp. sugar
¾ cup brown sugar
1 egg
¼ tsp. vanilla
1 cup oats
½ cup oat bran
¼ cup all purpose flour
½ tsp. baking soda
¼ tsp. salt
¼ tsp. cinnamon
¾ cup chopped pecans
¾ cup chocolate chips (or raisins)

Cream the butter and sugars together in a mixing bowl until light and fluffy. Beat in the egg and vanilla. Stir together all remaining ingredients in a separate bowl and mix into the wet ingredients until well combined. Drop batter by rounded tablespoons onto a greased baking sheet and gently flatten into discs.

Bake at 350° for 10-12 minutes or until golden brown. Cool to room temperature, then freeze the cookies before making ice cream sandwiches. (Recipe makes about 24 cookies, or enough for 12 sandwiches.)

Assemble the sandwiches:

Turn half the cookies bottom side up and top with a spoonful of caramel. Place a scoop of the ice cream on top of the caramel and top with the remaining cookies. Freeze until ready to serve.
Copyright FREEL - NBC Local Media