Even before the pandemic, parts of North Texas were facing a homelessness crisis.
That still continues today, as the novel coronavirus continues to rock our society and economy in ways we're still trying to understand.
NBC 5 has reported on the job loss forcing families into homelessness.
But this week, something that has been four years in the making just opened up in Arlington. It's something that could be a potential lifeline to these families in need.
The Arlington Life Shelter, at 325 W. Division Street, completed a $5 million construction project on a two-story homeless facility this month and officially started moving residents in on Thursday. The funding was made possible through community donations and grants.
"We're providing more space for families and children. And then providing more space to carry out our programming to make what we do for the homeless even more efficient," said Jim Reeder, the shelter's executive director.
The mission is to help not only homeless individuals but impoverished families. There are now family bedrooms to house women with children whereas before, shelter leaders said they were having to turn away kids with families because there was simply nowhere to put them.
Local
The latest news from around North Texas.
These extra beds have expanded the shelter by 40 percent. They can now hold 120 beds, though social distancing will be practiced for the indefinite future.
The family and individual bedrooms are outfitted in part by more than $40,000 in contributions community members made via the Amazon Wish List.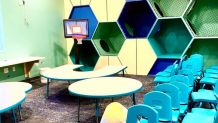 The shelter also includes expanded education, recreation and programming space, as opposed to the previous shelter which had only one room dedicated to these functions.
There is also an open-air playground, nursery and customized spaces for toddlers, elementary kids and teens. Also included are an upgraded and larger kitchen and a computer lab for job searches. A classroom allows a space for life skills and financial literacy training.
"The mission of Arlington Life Shelter is to really help residents get back to self-sufficiency. We don't just have them come in and give them a bed and meals. We want to do what it takes to get them back to employment," said Reeder.
Reeder said he fears because of the job losses and financial troubles mounting for families due to the pandemic, that there could be more people falling into crisis and then evictions in the coming months.
However, the rise in demand by these families comes at a time when non-profits are losing money and some have scaled back services due to COVID-19 restrictions.
Reeder said Arlington Life Shelter was able to press on with construction since that type of work was considered essential work. While this project was four years in the making, the opening is coincidentally happening at a very good time when needs are increasing.
"We certainly just have a feeling that maybe the worst and greatest of the demand is still down the road a bit," Reeder said. "People have gotten some stimulus, some unemployment help. But what's it going to be like in six months? Is what we did going to be enough? Loss of paychecks could really mushroom the homeless situation."
During construction, clients were housed with the shelter's church partners. About 75 have been moving back into the new dorms since opening Thursday. The family rooms should be ready next week.
"It's been a really exciting project to see the breadth of support from our faith community to get us to where we are and do what we're doing," said Reeder. "We might could end up needing to be three times the size we are. But we will do the best we can to serve the community."