The last day of November and the first day of December offered freezing temperatures for North Texas, with many Dallas-Fort Worth-area cities dropping into the 20s overnight.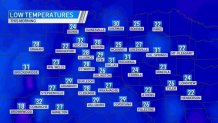 A Freeze Warning was in effect until 9 a.m. Tuesday for several counties to the southeast of DFW, including Anderson, Freestone, Henderson and Navarro, among others, where temperatures would reach freezing levels for the first time this season. The DFW Metroplex was removed from the freeze warning Monday.
When temperatures reaching dangerously cold levels, here are a few things you should do.
If you have any plants outside, make sure you either cover them up or bring them in someplace warm.
Also, cover up outside faucets and turn off sprinkler systems to protect your pipes.
If your pets stay outside, bring them inside or make sure they have someplace warm and dry to sleep.
Ensure heaters are in working order and check on older family members who live alone.
No freezing temperatures tonight. Lows will drop into the upper 30s- low 40s. On Wednesday, temperatures are expected to remain chilly with a 40% chance of scattered showers. The rest of the week should be rain-free but still cool with temperatures ranging from near-freezing overnight to 50s and low 60s in the daytime.
Get the latest forecast from NBC 5's team of Weather Experts here.