S Band Radar & Maps | Forecast | Weather Alerts
Traffic | Send Us a Photo/Video | Live Cams
The first few days of spring in North Texas will feature dry weather with a warm up. Next week will likely be completely different.
The jet stream pattern through Saturday will be favorable for dry and mild weather in Texas. High temperatures will reach the 70s and 80s with no chance of rain.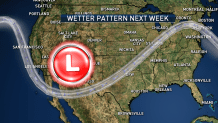 The Pineapple Express is a name given to a particular jet stream pattern that brings in moist air off of the Pacific Ocean into the United States. Also known as the atmospheric river, the pattern originates near Hawaii, hence the pineapple reference.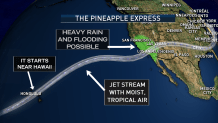 The moist air that is transported is usually associated with heavy rainfall. Heavy rain is likely in California on Thursday as a result of the Pineapple Express.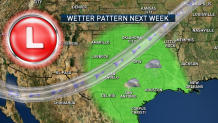 Texas will see higher rain chances next week due in part to a pattern similar to this. Some of the rain could be heavy. Computer models are showing the potential for several inches of rain in parts of Texas and Arkansas from Sunday through Good Friday.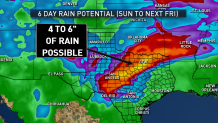 If you have some outdoor work you need to do, you'll have dry weather through Saturday. After that, rain chances will be going up.
Weather Connection
Connecting you with your forecast and all the things that make North Texas weather unique.
Get the latest forecast information from NBC 5's team of Weather Experts here.
---
---