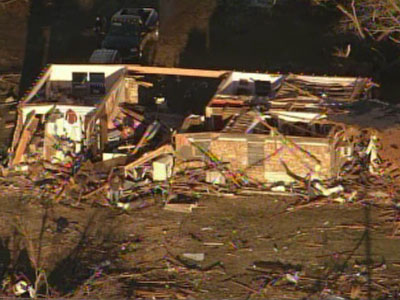 Investigators from the National Weather Service surveyed damage in East Texas on Thursday.
The weather service confirmed later Thursday that at least five tornadoes touched down. One tornado was confirmed near Canton. To the south of Canton, at least two snaked across part of eastern Henderson County. The National Weather Service also said at least two twisters tore across part of Hopkins County in and near Sulpher Springs.
Residents in Canton described the storm as fast and furious as it ripped through their town.
Weather Connection
Connecting you with your forecast and all the things that make North Texas weather unique.
"The sky just started swirling," Cici Adams said. "We got in the house and got in the closet; next thing I know, it was like a loud roar."
A team from the National Weather Service walked through the damaged areas and determined the storm started in Canton and made a straight line northeast through the area.
"It appears the tornado was organizing near the interstate, and it became much more intense as it moved into this community here," said Bill Bunting, of the NWS.
Investigators said the storm produced one tornado that started in Canton and ended in the Star community.
They found more severe damage about three miles northeast.
"There appears to be enough of a gap that this is probably a second tornado," Bunting said.
The crew believes the three tornadoes were about 100 yards in width and had winds of up to 120 mph.
"It was pretty bad," Adams said. "Everybody's OK; that's the main thing."
The weather service said this isn't the normal time of year for severe weather, but anything is possible in North and East Texas.
Copyright AP - Associated Press