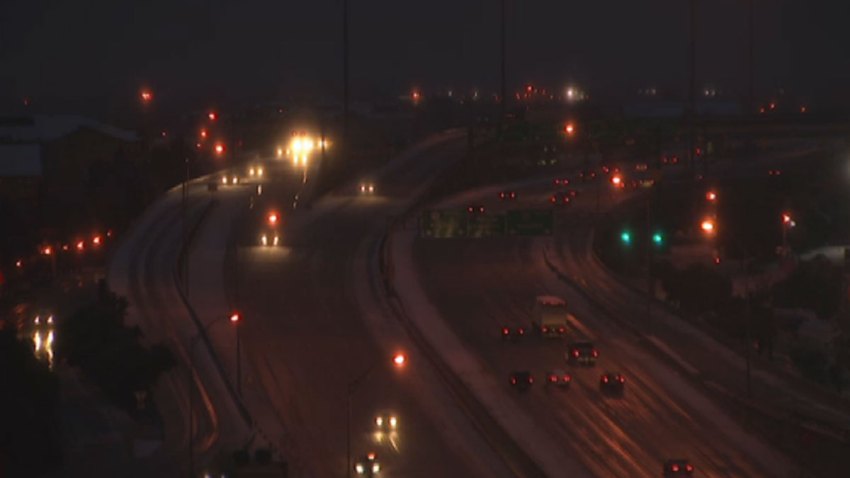 You are watching streaming video from NBC DFW looking toward the east from Klyde Warren Park where Woodall Rodgers Freeway meets U.S. Highway 75 and Interstate 45.
Traffic is snarled as ice coats North Texas highways.
Carrollton
Weather Connection
Connecting you with your forecast and all the things that make North Texas weather unique.
The Carrollton Police Department says that an accident has closed Josey Lane at FM 544 for the forseeable future due to ice. The Texas Department of Transportation has been contacted and the road is expected to remain closed most of the night.
Collin County
TxDOT has started sanding roadways across the Collin County. The sand trucks are planned to sand US 75, US route 380, FM 3286, state Highway 289, and state Highway 121. TxDOT will also sand all ramps on state Highway 190 and US 75.
Dallas
The Dallas Office of Emergency Management reports that ice is now forming in Dallas along the 8800 block of Camp Wisdom Road. The road is getting sanded.
Fort Worth
Ice along the Interstate 30 at Interstate 35W in Fort Worth has caused traffic delays. Vehicles are slowing moving across bridges as ice continues to form along roadways. The Fort Worth Police Department said a portion of the Fort Worth Mixmaster from I-30 westbound to I-35 southbound has been closed until further notice due to ice. Fort Worth PD has advised that sand trucks are in the area.
A crash in Forest Hills involving two tractor trailers and seven other vehicles sent one person to the hospital, according to MedStar. For complete details about the crash,
click here
.
Grapevine
A crash in Grapevine, reportedly involving several cars, has blocked a portion of state Highway 121. For complete details about the crash,
click here
.
Irving
The Irving exit on the President George Bush Turnpike southbound is closed due to ice at state Highway 183. The exit has caused backup from state Highway 114, causing more than an hour delay.
Mid-Cities Area
A disable vehicle has the left lane blocked on state Highway 183 West in the Hurst, Euless, Bedford area. The area was cleared at about 6:30 p.m. Traffic is still moving slow in this area extending from state Highway 121.
For updates on traffic affecting your area, visit our Traffic Map here.