Tuesday brought a drop in the oppressive humidity of the last few days, which helped to keep afternoon heat index values below 103 for much of North Texas.  While humidity levels were not quite as high, temperatures were still above normal in the mid to upper 90s.
The trend for lower humidity will remain through the rest of the week. However, temperatures will continue to be above normal for the next few days. Highs on Wednesday are expected to be back into the mid to upper 90s.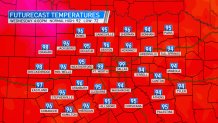 Afternoon heat index readings will be from 100 to 102 through Friday, but a lack of high humidity will keep them from reaching higher levels. The weekend will feature heat index readings in the upper 90s.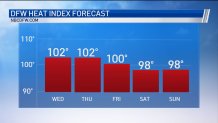 Like recent days, the wind is going to remain quite light. This will lead to elevated pollutants and poor air quality. Because of this, an air quality alert has been issued for Wednesday. Those folks with respiratory issues should remain inside for much of the day.