A Severe Thunderstorm Watch issued for parts of North Texas expired at 6 p.m. as a cold front moved through North Texas Sunday.
The front brought scattered showers and a few thunderstorms with it as it moved through the area, along with heavy rain, occasional lightning and gusty winds.
Ahead of the front, temperatures were in the 60s and 70s. As the front moved south into the warmer air, a few thunderstorms popped up.
The greatest concentration of strong to severe storms was across East Texas Sunday afternoon. The main threats were damaging winds and hail.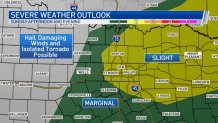 The severe weather threat diminished behind the front on Sunday.
Monday will be cool and showery with highs in the mid-50s. Rain chances end after Monday, with a brief break in the wet weather Tuesday and Wednesday.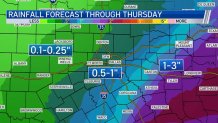 Another strong system will approach North Texas late week with increasing rain chances expected to end of the week.