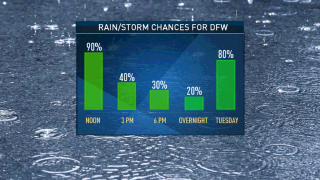 Memorial Day is the unofficial start to summer, but the weather will be anything but "summer-like" here in North Texas.
Occasional rain was mixed with cloudy skies Monday, but it wasn't a complete washout. An expected break in the rain came Monday afternoon and will last into the evening before possibly returning Tuesday morning.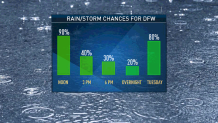 The weather pattern will remain unsettled for several days. This means wet weather will be with us most of the week. While it won't rain nonstop every day, there will be multiple chances each day until the weekend.
Before all is said and done this week, rain totals could exceed 3 or 4 inches, with some spots getting close to 5.