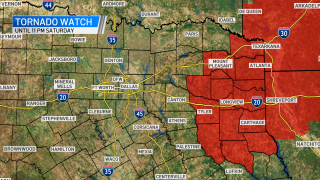 A tornado watch has been issued for East Texas til 11 p.m. Saturday.
Storms appear to be moving northeast.
North Texas remains calm with some showers in the Dallas/Fort Worth area.
It appears all of the storms Saturday evening will stay east of DFW. Clearing and a little cooler Sunday but warming up again Monday and Tuesday.
Weather Connection
Connecting you with your forecast and all the things that make North Texas weather unique.
A low chance of storms pop up again Tuesday night through Wednesday morning but again most of it may be east of DFW.