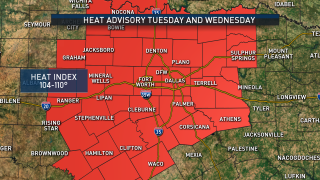 A Heat Advisory has been issued for  North Texas for Tuesday and Wednesday. 
While afternoon temperatures are expected in the mid to upper 90s, with high humidity the afternoon heat index will range from 105 to 110.
While there is a slight chance for isolated thunderstorms, most areas will remain dry and hot.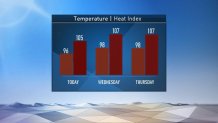 If you must spend time outside, make sure you drink plenty of water and take frequent breaks.
Take time to check on your elderly neighbors and family members to make sure they have the ability to stay cool. Also, make sure your pets have access to cool air and plenty of fresh water.
While the Heat Advisory is in effect through Wednesday, it's possible that it could be extended into the latter part of the week.
Weather Connection
Connecting you with your forecast and all the things that make North Texas weather unique.
Air Quality Tuesday is moderate due to particles in the air from the ongoing African dust storm. The Texas Commission on Environmental Quality warns those who are "unusually sensitive to particle pollution, consider reducing your activity level or shorten the amount of time you are active outdoors."