After leaving much of Texas without power for several days during a winter storm last February, the Texas power grid appears to be performing well Thursday and with plenty of power in reserves. That leaves some people wondering why the grid has performed better this year compared to 2021 and if it will continue to do as well when temperatures drop into the teens overnight Thursday.
The grid is holding strong because of two things. First, ERCOT changed the way they do business and, second, this winter storm is nowhere near as severe as the one we faced last February.
While the snow and freezing rain stopped falling Thursday morning, the coldest air, and therefore the greatest demand for power, is yet to come. NBC 5's Weather Experts expect temperatures to drop into the low teens on Friday and Saturday morning and an increase in the demand for power is expected to follow.
Peter Lake, chairman of the Public Utility Commission of Texas, said "the grid remains strong, reliable and it is performing well in this winter weather event."
The PUC and ERCOT are using a new approach to minimize risk this winter by increasing the amount of available power in reserve.
"We continue to operate the electric grid in an extremely conservative manner. We are bringing on more resources, having those resources available early," said Brad Jones, CEO of ERCOT.
That means ERCOT is now buying more reserve power.
Overnight Wednesday into Thursday morning, huge power reserves were available with ERCOT showing between 10,000 and 11,000 megawatts of excess generation. That number grew to reserves of 22,500 megawatts Thursday afternoon.
Take a look at the graph below showing the huge amount of available reserves as the storm arrived Wednesday night. A big gap between the green line showing demand for power and the purple line showing the amount of available electricity.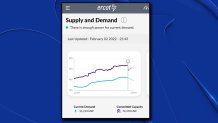 Compare that to a graph showing supply and demand from February 2021 and it's easy to see ERCOT had little margin for error last year and when power plants began shutting down, slammed by cold and precipitation, they were unable to meet demand.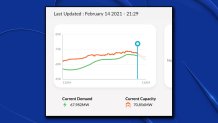 Mother Nature has also helped. Temperatures are milder than the single digits seen in 2021 and West Texas wind farms suffered less icing of turbines in this storm compared to last year, allowing those generators to add more power to the grid. On Thursday morning, wind power was generating more than 17,000 megawatts of electricity.
Solar power was also expected to help Thursday afternoon with almost 3,000 megawatts of solar output expected when the sun returned in West Texas.
ERCOT also did not report any loss of generation greater than 450 megawatts overnight Wednesday, indicating that electric plants are functioning well and that no big generators shut down in the cold.
"We have a high degree of confidence … we feel very comfortable in our current situation," said Jones.
Ice and cold have shut down some natural gas wells that supply fuel to power plants, but the railroad commission that regulates the gas industry said it's not concerned and that the fluctuation is within normal ranges.
The railroad commission has not passed rules requiring gas wells to winterize yet, unlike power plants which are subject to new regulations this year. The lack of rules leaves some observers concerned about how the gas system would have left power plants struggling in a bigger storm.
"We still have a problem having our gas supply ready for winter and especially its winter storm Uri type event," said Chrysta Castaneda, an oil and gas attorney.
The Texas Oil & Gas Association, which represents the state's oil and gas industry said it expects natural gas production will continue to decline throughout the day but insists there will be plenty of gas for power plants to use to generate electricity.
The railroad commission said it has visited thousands of gas wells and pipelines to make sure they are winterized.
Thursday night at 10 p.m., NBC 5 Investigates will share more of the story where we reveal what we found when we obtained records of those site visits that seem to raise more questions about what "being winterized" really means.