A fast-moving storm system moved across North Texas early Wednesday morning bringing heavy rain, lighting and powerful wind gusts.
The line of storms approached Dallas-Fort Worth from the west, with two rounds of rain arriving in the region between 3-5 a.m.
Several Severe Thunderstorm Warnings were issued by the National Weather Service for damaging winds and small hail. The NWS warned wind gusts could reach as strong as 70 mph in some neighborhoods.
A Wind Advisory is in effect through 7 p.m. Wednesday for much of North Texas. Wind gusts could reach 40 mph. Secure any loose objects in your yard.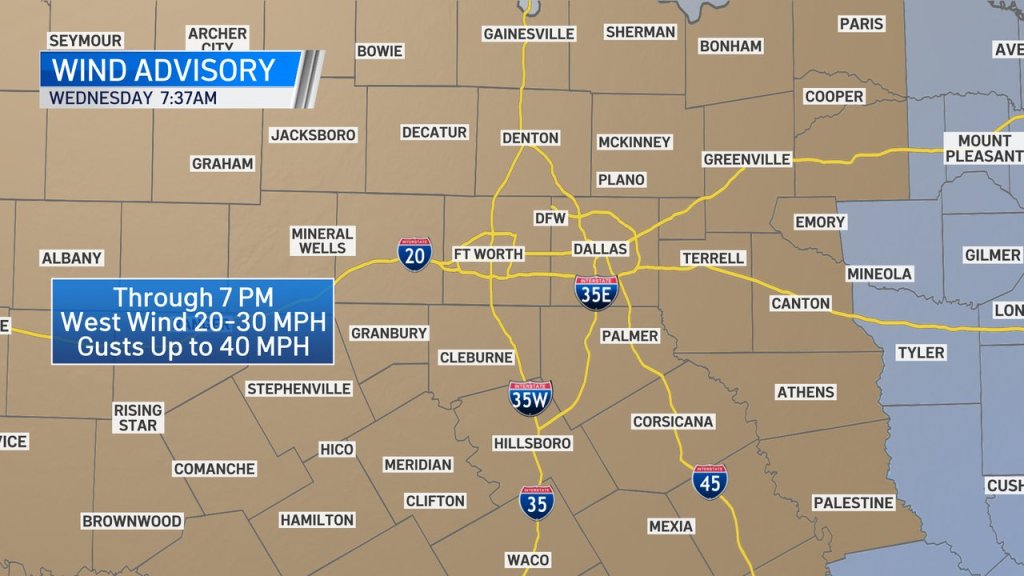 Arlington Police Chief Al Jones tweeted pictures of toppled trees and a construction area damaged by strong winds. No injuries were reported, Jones wrote.
One NBC 5 viewer in Glen Rose emailed iSee@nbcdfw.com pictures of her barn door that had been blown onto her Jeep. "When you put your jeep in the barn to protect from hail," Michelle Lozier wrote.
Photos: Live Radar: Wind Advisory in North Texas as Early Morning Storms Move East
To the east, a Severe Thunderstorm Watch continues until 10 a.m. Damaging winds, hail and a tornado or two cannot be ruled out with the line of storms.
Early Wednesday, Oncor Electric reported thousands of power outages as the storms rolled through. Oncor's online outage map shows electricity service being restored to areas that were affected.
"Resources are currently working to restore power in these areas and across the service area as the storm system continues to move east," Oncor said in a notice online.
If you see a downed power line, stay away and call 911 immediately, Oncor said.
The cold front producing the storm chances will move out of Texas by Wednesday afternoon.
Elevated Fire Danger
A strong west wind will develop across North Texas Wednesday -- behind the front. The combination of winds gusting to 40 mph and low humidity will produce an elevated fire danger for the western half of North Texas.
Outdoor burning is highly discouraged. Thursday will remain quite breezy so the fire danger will remain.
Severe Storms Across the South
Meanwhile, conditions for severe weather will be more favorable Wednesday in parts of Arkansas, Louisiana, Mississippi, Alabama and Tennessee.
The area in the bullseye for possible tornadoes is home to more than 8 million people and includes Memphis, Tennessee; Birmingham, Alabama; Little Rock, Arkansas; and Jackson, Mississippi. Parts of Oklahoma and Missouri will also be at risk of severe storms.
In parts of Louisiana, Mississippi and Alabama, any storm cell that develops Wednesday afternoon "could quickly become a supercell capable of producing strong tornadoes," the Storm Prediction Center warned.
More than a dozen Alabama school systems canceled classes, planned online sessions or announced early dismissals because of the threat. More could be added to the list.
Copyright NBC 5 News and The Associated Press