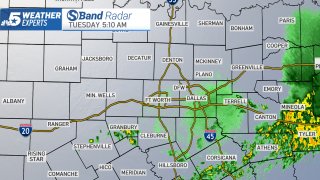 An unsettled weather pattern brought showers and thunderstorms to North Texas early Tuesday morning.
The storms overnight developed out of a system that brought severe weather to Northern Oklahoma Monday. A Severe Thunderstorm Watch issued for more than a dozen North Texas counties until 2 a.m. Tuesday was allowed to expire as the storms weakened as they marched south.
The storms that did arrive brought very heavy rain, gusty winds and lots of lightning and thunder, but it was short-lived.
A cold front accompanied the showers and left us with cooler temperatures Tuesday.
STAY WEATHER AWARE THIS WEEK
Much of next week looks unsettled with daily chances for storms.
A new batch of moisture on Wednesday is expected to make the day warm (low 80s) and humid. There's another chance for rain overnight Wednesday and into Thursday. The greatest severe threat appears to be to the north though that forecast will likely change.
Mother's Day weekend will be dry with temperatures expected to climb into the low to mid-90s.
CONTINUING WEATHER COVERAGE
Stay up to date with the latest weather forecast from NBC 5's team of Weather Experts by clicking here or by watching the video below.