North Texas started 2022 with a potent weather system. Cold Arctic air moved into North Texas Saturday afternoon and evening and temperatures plummeted overnight.
Sunday morning started with a hard freeze with temperatures dropping into the teens in most areas. Wind chill values Sunday morning fell to the single digits in some spots. You'll want to dress in layers if you go outdoors today. With strong north winds, it'll be cold all day.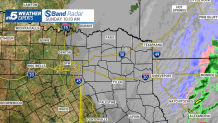 This will be the coldest air of the winter so far in North Texas. No significant precipitation occurred with the cold front. But there were a few spotty light sleet showers and even a few snow flurries overnight and into Sunday morning, mainly north and east of Dallas. Accumulating snow has been falling though in parts of Arkansas and northern Louisiana.
With skies clearing out, we will enjoy sunshine Sunday afternoon. But those same clear skies mean another hard freeze will occur tonight into Monday morning with temperatures dropping into the low 20s in the Dallas-Fort Worth area and into the teens in surrounding areas.
Don't forget to protect your pipes, plants, and pets. This cold snap will be short-lived and not a repeat of the prolonged cold experienced last February.
After a couple of cold days, it will rebound to the 60s on Tuesday. But another cold front will arrive around mid-day on Wednesday, and temperatures will fall quickly once again and remain chilly for the rest of the week.
---
Weather Links
---