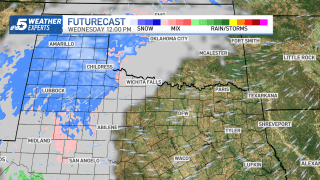 A storm system is bringing snow, sleet, and rain to parts of West Texas and the Texas Panhandle Wednesday.
A Winter Weather Advisory is in effect in those areas for the potential of snow accumulations as high as three inches. Travel in the advisory area could be slick in spots, especially elevated surfaces such as bridges and overpasses. It will snow off and on through much of the day Wednesday.
Southern parts of the advisory could see light icing.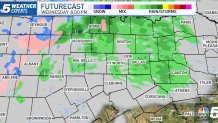 A weakening storm system that brought snow to West Texas will be moving across North Texas this evening. A few rain showers are possible, followed by dry weather overnight.
A dry pattern is expected as we wrap up the work week and head into the weekend.
Temperatures will be cool Thursday and Friday with highs in the 50s. The weekend will be warmer with temperatures in the 60s.
Weather Connection
Connecting you with your forecast and all the things that make North Texas weather unique.
Next week starts mild and offers up a chance of showers Monday, with perhaps a better chance of rain by Wednesday.