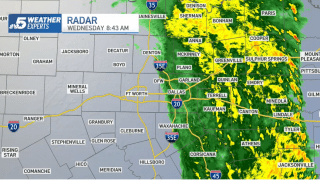 What to Know
Strong to severe thunderstorms early Wednesday morning will clear out of the area before sunrise.
There was an elevated risk that these storms could produce damaging winds in excess of 70 mph.
Cooler and windier weather will follow the cold front.
A powerful storm system brought strong winds and heavy rain to North Texas early Wednesday morning.
The storms prompted severe thunderstorm warnings for Collin, Grayson, Cooke, Tarrant, Denton, Parker and Wise counties between 1 a.m. and shortly after 4 a.m.
Rain is expected to continue into the early morning hours. Drivers should expect a wet commute and ponding on the roads.
Photos: Early Morning Storms Bring Heavy Rain, Strong Winds
In Dallas, winds with maximum gusts of about 45 mph were reported overnight, contributing to damage downtown and knocking over a large street sign near Elm Street and Houston Street.
Winds reaching 57 mph were recorded at about 2:20 a.m. in Parker County as the storm squall line moved from west to east. By about 3 a.m., the strongest core of winds was recorded in Denton County, in the Argyle area, where winds reaching 70 mph were possible, NBC 5 Meteorologist Grant Johnston said.
There have been no immediate reports of hail in these storms.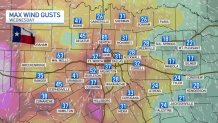 A wide area of circulation was detected on radar over the Little Elm area, though the circulation was not tight enough to produce a tornado, Johnston said. There have been no reports of tornadoes so far.
The rain should move out quickly, leaving us with dry and cooler weather by late morning Wednesday.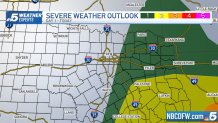 In the wake of Wednesday's cold front, temperatures will be more like fall in the second half of the week. Furthermore, a very strong northwest wind will take hold on Thursday. Wind gusts in excess of 40 mph will be possible.
Thankfully, the weekend looks nice for any trick-or-treat plans.
CONTINUING WEATHER COVERAGE
Stay up to date with the latest weather forecast from NBC 5's team of Weather Experts by clicking here or by watching the video below.
Weather Connection