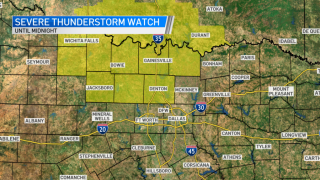 All severe weather alerts issued Friday have been allowed to expire as storms moved out of North Texas.
Following the storms, drier air was moving into the area and the remainder of the weekend is expected to be dry.
The National Weather Service issued a Tornado Warning for northeastern Denton County shortly before 7 p.m. but canceled it before it was set to expire at 7:15 p.m.
The NWS issued the warning due to radar-indicated rotation. NBC 5's Chief Meteorologist Rick Mitchell said at about 7 p.m. the circulation was weakening as it neared Aubrey.
At 6:54 p.m., the NWS said "a severe thunderstorm capable of producing a tornado
was located near Ray Roberts Park Isle Du Bois, or 7 miles east of Sanger, moving northeast at 25 mph. The rotation has weakened, but we will continue to monitor this storm over the next few minutes."
---
Weather Links
---
Weather Connection
Connecting you with your forecast and all the things that make North Texas weather unique.
An upper-level storm system swept through the Southern Plains. Gulf moisture spread north, and that set the stage for the possibility for strong to severe storms early Friday afternoon to about rush hour.
Hail was reported in Collin County and parts of Dallas County on Friday. Most of the hail was dime-sized, but there were also reports of possibly golf ball sized hail in Lavon. Wind damage was also reported in Paris.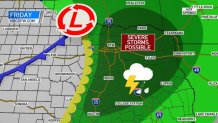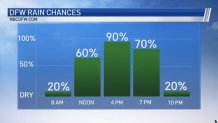 This type of weather is not unusual for April in Texas, so be sure to remain weather-aware. Also, make sure you have multiple ways to receive weather warnings.
CONTINUING WEATHER COVERAGE
Stay up to date with the latest weather forecast from NBC 5's team of Weather Experts by clicking here or by watching the video below.