North Texans faced wet roads on the Thursday morning commute after a round of overnight storms brought heavy downpours and lightning.
A Tornado Watch issued through 4 a.m. Thursday for parts of North Texas was allowed to expire as storms moved east and diminished in severity.
Thunderstorms will end from west to east with a few lingering showers through late morning.
Clear skies will follow later this afternoon as dry air settles in behind a cold front.
Some Storms Wednesday Were Severe
Thursday morning's storms followed a thunderstorm system that brought hail to the North Texas area Wednesday night.
The first round of thunderstorms started moving through just after 5 p.m. Wednesday, packing hail and heavy rain and vivid lightning.
North Texans in several cities like Haslet, Roanoke, Saginaw and North Fort Worth reported hail from pea-sized to larger than golf balls.
Your Hail Photos – March 24, 2021
Several tornado warnings were issued during the night, but no touchdowns were confirmed in the Dallas-Fort Worth area.
In Central Texas, Lt. Chris Blanton with the Hamilton County Sheriff's Office shared a funnel cloud in Hamilton County. A Tornado Warning was issued with Hamilton County around 5:45 p.m Wednesday.
NBC 5 Meteorologist Grant Johnston says video taken of that funnel cloud appears to show a brief touchdown.
There were no immediate reports of damage or injuries.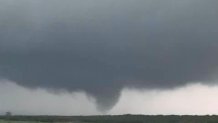 What's Next?
Thunderstorms end Thursday morning with a few lingering showers late morning- early afternoon.
Dry and mild weather is expected Friday through the weekend with highs in the 70s Friday and Sunday, with low 80s possible Saturday.
---