What to Know
NWS confirms EF-0 in University Park; EF-1 in North Dallas
NWS confirms three EF-U tornadoes in western Ellis County
Area of North Dallas hit Sunday also suffered extensive damage in October 2019 tornado outbreak
Five tornadoes touched down in North Texas Sunday afternoon including two in Dallas County and three in Ellis County, according to preliminary estimates from the National Weather Service.
NWS officials conducting damage surveys Monday afternoon confirmed that two separate tornadoes touched down north of downtown University Park and North Dallas and that three others touched down in western Ellis County.
The first tornado touched down near University Park and was classified as an EF-0 with peak wind speeds near 75 mph. Most of the damage reported from this tornado was to trees in Goar Park and Williams Park, the NWS said.
The second tornado touched down north of there, near Northaven Road and U.S. Highway 75. That tornado was a bit stronger, an EF-1 with maximum wind speeds estimated at 90 mph and the damage reports more severe.
"The damage is unfortunately pretty extensive particularly to this residence here," said Lamont Bain, a Meteorologist with the National Weather Service Fort Worth who was out surveying the damage on Monday.
A home along Northaven suffered catastrophic damage for the second time in as many years due to a tornado. Cherie Hart told NBC 5 Sunday afternoon she and her husband took cover in an interior bathroom during the storm and walked out afterward to find debris everywhere and part of the roof missing.
"I don't know how many people have been in our shoes that have been hit by a tornado twice in less than two years, if somebody has been, let me know," she said.
Hart said it was a harsh reminder of the October 2019 storm when an EF-3 tornado traveled for 15 miles from Dallas to Richardson causing significant damage to homes and property in the area.
"I'm really sad and traumatized all over again," Hart said.
A nursery across the street that was also significantly damaged in October 2019 also reported more damage on Sunday, though not to the same extent from two years ago.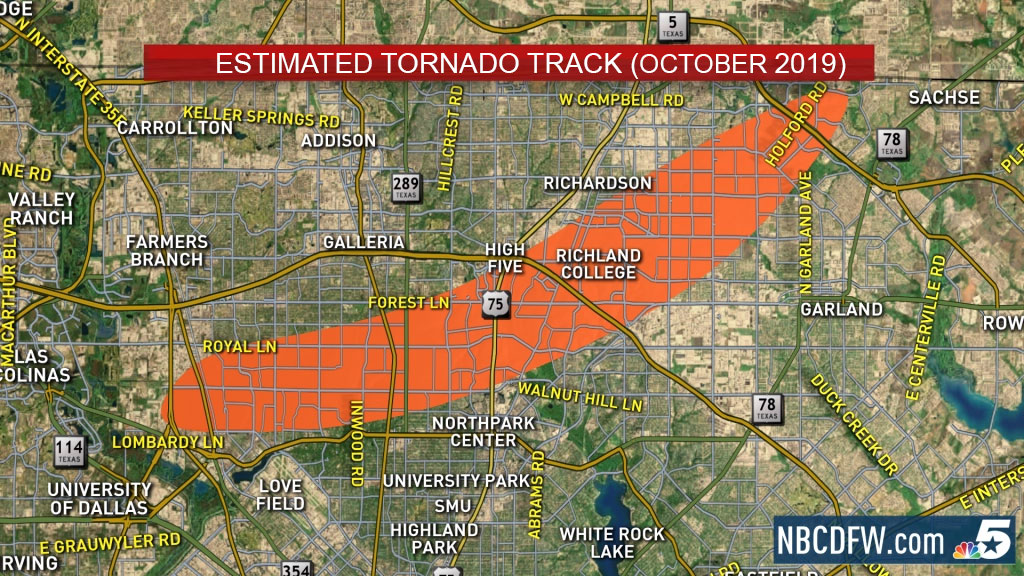 In western Ellis County NWS survey crews preliminarily categorized those tornadoes as EF-U, or EF-Unknown. The tornadoes were confirmed by radar data and spotter videos to have occurred between 1:30 p.m. and 3:30 p.m., but there was no damage found or reported to survey crews making it difficult to estimate the wind speeds.
The EF-U rating could change if evidence of damage is located.
The NWS said more details about the North Texas tornadoes are expected to be released Monday afternoon.
A sixth tornado was confirmed by the NWS Monday, an EF-0 with wind speeds to 75 mph in Bell County in Central Texas.