After a stretch of below-normal temperatures, a warm-up is taking place.
The normal high temperature for early August is 97 degrees. Friday, the high reached 95 degrees with highs in the upper 90s over the weekend.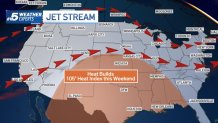 A ridge in the jet stream will keep any disturbances that could bring rain away from North Texas. The heat and humidity will build and by the end of the weekend, the heat index will range between 100-105 degrees.
In this type of weather, heat illness and heat stroke can happen quickly.
Over the weekend you will want to practice safety:
Take breaks from the heat.
Stay hydrated.
Dress in loose-fitting light-colored clothing.
You will also want to check on people without air conditioning and pets. Never leave pets or children in a car.
Local
The latest news from around North Texas.
Hot Car Safety
According to the National Safety Council, if it's 95 degrees outside the internal temperature of a car could climb to 129 degrees in 30 minutes. After just 10 minutes, temperatures inside could reach 114 degrees.
A child's body temperature heats up three to five times faster than an adult and heatstroke can begin when a person's core body temperature reaches 104 degrees. A core temperature of 107 degrees is lethal, according to the Texas Department of State Health Services.