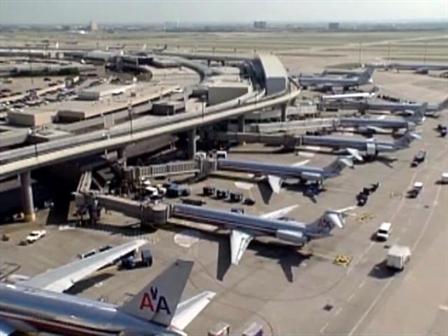 Jerry Jones may not have set an attendance record for Super Bowl XLV but the number of visitors traveling thorugh Dallas/Fort Worth International Airport on the Monday after Super Bowl just might be record breaking.
More than 200,000 Super Bowl visitors headed home Monday after the big game, 40,000 more than on a normal day, according to David Magana, Manager of Public Affairs for DFW Airport.
"It's a full normal day with 890 departures, add on about 20 charters, add on another 30 or airline segments that we got and you've got a considerable number higher than a normal day," Magana said.
Weather Connection
Connecting you with your forecast and all the things that make North Texas weather unique.
The amount of travelers surpasses the number of passengers seen on the two busiest travel days of the year, Thanksgiving and Christmas.
"We haven't seen this many people coming to an airport all at the same time in a 6 hour period like we are seeing today," Magana said. "So this is first for us."
Wait time at security checkpoints at the massive airport are some of the fastest in the country, according to Magana.
"We're seeing 10-15 minutes. Some checkpoints are empty. Some checkpoints are 45 minutes, it just depends," Magana said.
The airport prepared for the crowds by bringing in extra employees to staff airline ticket counters, concessions and TSA security checkpoints.
Airport Ambassadors and volunteers from the North Texas Super Bowl Host Committee were on hand to greet travelers.
Visitors were entertained by live music in various terminals.
"We wanted to put a smile on people's faces. I mean this airport is the last part of the North Texas experience that Super Bowl visitors are going to see," Magana said. "We take that pretty seriously. We are first thing they saw and the last thing they saw."
For some, flying home would be the most enjoyable thing they did this Super Bowl trip.
"It was definitely fun once we got to a Packer bar," said Brenda Tischer, who was heading back to Wisconsin. "But before that, it wasn't so much."
When asked if they'd return to North Texas if the Super Bowl came back, Don Capra said "perhaps not, unfortunately."
However, others promised they'd soon return.
Dazzled by Cowboys Stadium, one visitor from Georgia who is a Packers fan said, "We might just come back for a Cowboys game!"