It's a record-setting cold Wednesday morning in parts of North Texas. The temperatures dropped to 37 degrees at the Dallas Fort-Worth airport earlier this morning, breaking the old record of 39 degrees set back in 1918.
By 5 a.m. the temperature at both DFW Airport and Love Field was 41 degrees while many other cities in North Texas dipped into the 30s. You may need to scrape frost off the windshield.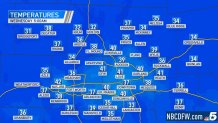 A Freeze Warning is in effect until 9 a.m. Wednesday for counties to the northwest of DFW and a Frost Advisory is in effect for the remainder of North Texas including Dallas and Tarrant Counties.
A Freeze Warning is issued when sub-freezing temperatures are pretty much imminent. This differs from a Frost Advisory, where temperatures hold just above freezing but are still cold enough to support areas of frost. Obviously, a Freeze Warning is more detrimental to plants that are unprotected.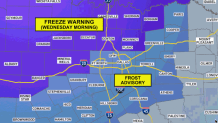 A cold front Tuesday afternoon sent temperatures down in a big way. Fortunately, the cold-snap will be brief. Temperatures will return to the 70s by Friday but then storms are in the forecast.