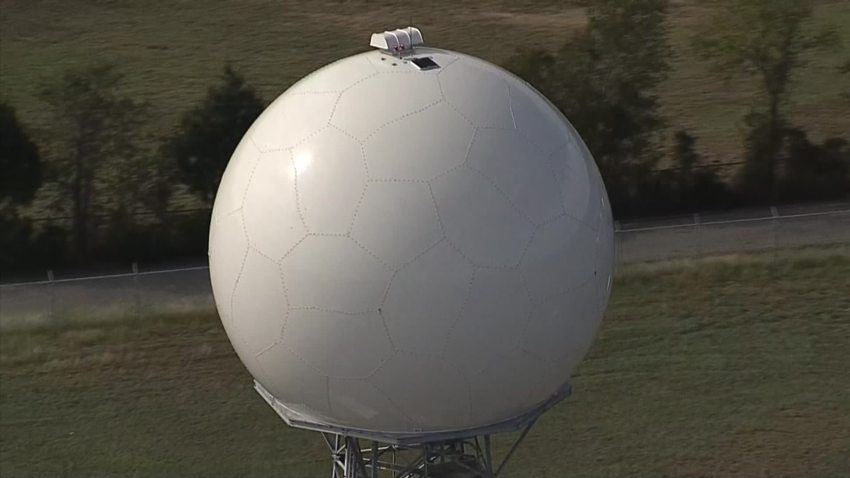 NBC 5 and Telemundo 39 announced another weather forecasting first for North Texas. The stations introduced Big S Radar, the first and only state-of-the-art, commercial high-frequency dual-polarization fixed S-Band radar in the region.
The new radar will give both stations a faster and more accurate long-range view into approaching severe weather threats like tornados.
As intense weather phenomena approach North Texas, NBC 5 and Telemundo 39 will have the ability to access critical weather data without any delays to help keep viewers all across the region informed, first.
Weather Connection
Connecting you with your forecast and all the things that make North Texas weather unique.
"As North Texans, we know weather can be a matter of life and death," said Tom Ehlmann, President and General Manager of NBC 5. "That's why we've researched and invested in the best available forecasting tools for NBC 5 and our sister station, Telemundo 39. We are committed to delivering complete and accurate weather coverage on the air and online at nbcdfw.com and Telemundo39.com."
Together, Big S Radar, Texas StormRanger and Texas Thunder Truck will help the stations' combined team of eight certified meteorologists better predict severe weather to help their viewers better prepare and keep their families safe.
"S-Band technology was previously out of reach for most commercial applications. Now that the stations have full control of this advanced technology through Big S Radar, we'll be able to identify severe weather threats much faster," said John Trevino, President and General Manager of Telemundo 39. "Speedier access to data coupled with more accurate details about the type of precipitation that may be headed our way – including a tornado's debris field – will help us better inform our viewers, so they can keep their families out of harm's way."
The new dual polarization radar has an Effective Radiated Power of 10.4 Gigawatts to provide detailed information about water droplets, debris from a tornado on the ground, hail, ice or snow that is approaching.
Strategically located southeast of Dallas and Fort Worth, Big S Radar will provide meteorologists with a clear view into the most densely populated sections of North Texas.
This advanced technology will help the stations' weather teams have immediate access to crucial weather information to help them forecast severe storms, including tornados, with greater precision.
NBC 5 and Telemundo 39 are the only stations in Texas to be licensed by the Federal Communications Commission (FCC) to operate weather radar in the high-frequency S-Band.
Earlier this year, NBC 5 and Telemundo 39 unveiled a new and first-of-its-kind mobile Doppler weather radar truck named Texas StormRanger in English and CazaTormentas 39 in Spanish.
Texas StormRanger's game-changing technology gathers, in real-time, weather and meteorological information that fixed radars can miss. This technology helps the stations' weather teams have access to important weather information by filling in known gaps in the National Weather Service's coverage.
The high-resolution and narrow-pulse radar can also scan storms at the lowest atmospheric layers, allowing NBC 5 and Telemundo39's meteorologists to determine the exact location of a storm, including its strength, its speed and where it's headed.
Viewers can access their hyper-local weather forecasts, including interactive weather radar maps, and track Texas StormRanger and CazaTormentas 39 through the stations' desktop and mobile websites and individual station apps.
App users will also receive push notifications when the mobile radar trucks are tracking storms and severe weather in their local area. Having real-time access to this crucial weather information may help local audiences better prepare for and keep their families safe from severe weather.