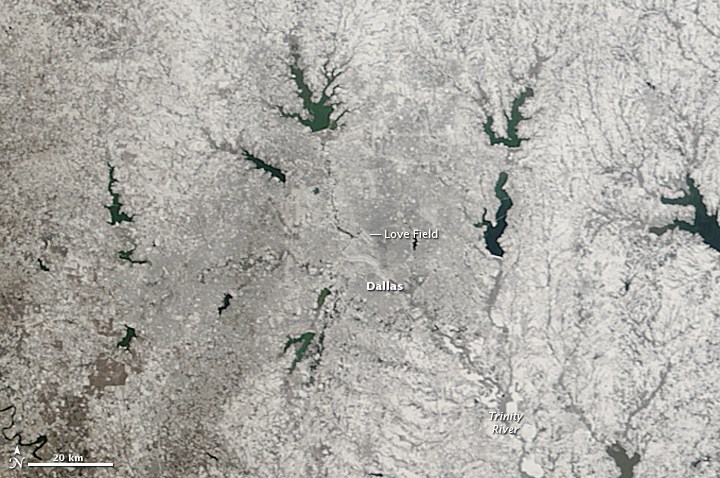 On February 6th, 2011, NASA's Terra satellite was hard at work capturing an amazing image from space.
This spectacular image used Moderate Resolution Imaging Spectroradiometer on the satellite to show snow still covering the ground across much of North Texas on Super Bowl Sunday.
The image was taken a few days after a second round of winter weather impacted DFW. Around five inches of snow quickly fell overnight Thursday into Friday morning across the Metroplex. That second blast was after the area dealt with icy roads for much of the week from another massive winter storm that impacted North Texas on Tuesday, February 1st.
Weather Connection
Connecting you with your forecast and all the things that make North Texas weather unique.
The image points out Love Field in Dallas still showing snow on the ground. Also check out how most of North Texas is white, other than the lakes and reservoirs in the picture. The weather created some problems for Super Bowl events but fortunately did improve just in time for the big game Sunday Evening.
We experienced mostly sunny skies for a good part of Sunday allowing for a clear image of the snow still on the ground.
There's more good news in store. After being in the deep freeze the first two weeks of February, the last two weeks look much warmer. In fact, temperatures will stay right around 70 degrees for afternoon highs at least through President's Day. Our average high for this time of the year is 60 degrees, so the current forecast puts us ten degrees above average.