What to Know
Slight chance of rain exists for Wednesday morning; Thursday expected to be dry
Chances remain for rain through the week
Stay Weather Aware with NBC 5's team of Weather Experts
Heavy rain soaked North Texas Tuesday morning as a long line of storms pushed from west to east.
Chances for more precipitation will diminish significantly Wednesday. Much of Wednesday and Thursday will be dry with some sunshine returning.
With more sunshine by Wednesday, afternoon temperatures will be returning to more normal levels for late May with highs in the mid to upper 80s.
There is a chance of morning storms on both Friday and Saturday.
A Flood Advisory remains in effect for Greyson County and a River Flood Warning remains in effect for several counties to the south and east of the Metroplex. See all active warnings here.
Given all of the rain lately, the humidity will remain rather high into the holiday weekend.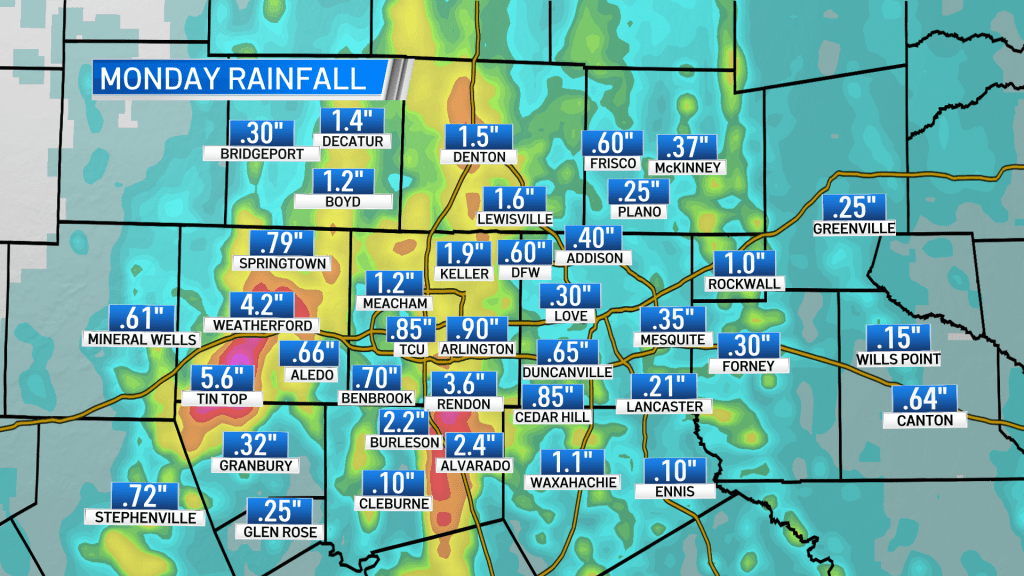 Rain amounts for Monday were as high as over five inches in parts of Parker and Johnson counties. Other areas were not quite as wet with some areas receiving only a few tenths of an inch.
Continuing Weather Coverage
Stay up to date with the latest weather forecast from NBC 5's team of Weather Experts by clicking here or by watching the video below.