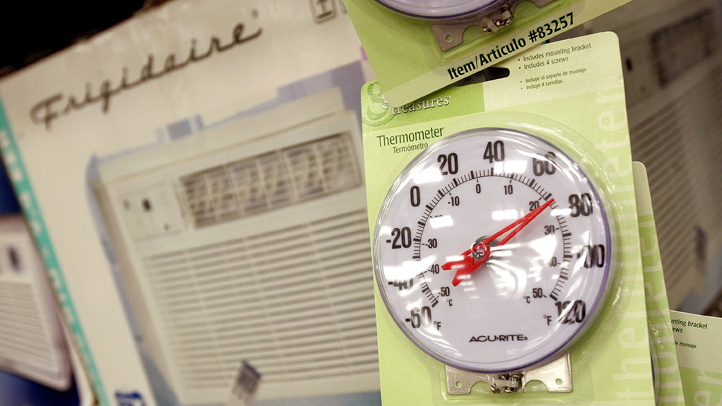 As record-breaking temperatures continue to cause issues around North Texas, we've collected some resources and links to utility information and other essential information.
Latest Weather Information
Check our Weather page here for the latest forecast, heat warnings, and other information from our NBC 5 meteorologists.
Weather Connection
Connecting you with your forecast and all the things that make North Texas weather unique.
Power
The Electric Reliability Council of Texas (ERCOT) has asked for power conservation from the public to help with high demand on the power grid. Latest information from ERCOT can be found here: ERCOT.com
Consumers can help by shutting off unnecessary lights and electrical appliances between 3 and 7 p.m., and delaying laundry and other activities requiring electricity-consuming appliances until later in the evening. Other conservation tips from the Public Utility Commission's "Powerful Advice" include:
Turn off all unnecessary lights, appliances, and electronic equipment.
When at home, close blinds and drapes that get direct sun, set air conditioning thermostats to 78 degrees or higher, and use fans in occupied rooms to feel cooler.
When away from home, set air conditioning thermostats to 85 degrees and turn all fans off before you leave. Block the sun by closing blinds or drapes on windows that will get direct sun.
Do not use your dishwasher, laundry equipment, hair dryers, coffee makers, or other home appliances during the peak hours of 3 to 7 p.m.
Avoid opening refrigerators or freezers more than necessary.
Use microwaves for cooking instead of an electric range or oven.
Set your pool pump to run in the early morning or evening instead of the afternoon.
Businesses should minimize the use of electric lighting and electricity-consuming equipment as much as possible. Large consumers of electricity should consider shutting down or reducing non-essential production processes.
Oncor, the power delivery company for most of North Texas, also offers an online outages tool to help track issues in the DFW area. Click here to access this tool.
Water
Many North Texas cities have outdoor watering restrictions. Dallas and Fort Worth residents should only water before 10 a.m. or after 6 p.m. Check your local city government's website for watering restrictions in your area.
Multiple cities in the North Texas Municipal Water District (NTMWD), including Richardson, Allen, Forney, Frisco, Garland, Plano, Mesquite and dozens of other cities in Dallas, Collin, Rockwall, Hunt, Kaufman, Rains and Hopkins counties. See a complete list here -- as those cities are under Stage 2 restrictions.
Denise Hickey with NTWMD shows how to properly water your lawn in this video.
Safety
Dallas County health officials have donated and installed more than 400 window air-conditioning units for people in need, and the county's hotline receives about 300 calls a day asking for air-conditioners or assistance with electric bills.
People should only call 214-819-6001 if they are in dire need and their homes do not have working A/C units. Officials said they've been bombarded with calls from people wanting a second or third A/C unit, instead of hearing from people in crisis.
Cooling Centers Open Across North Texas
Dallas County is activating its "Beat the Heat Centers," offering cold water, snacks and most importantly air conditioning. The facilities are sponsored by Reliant Energy and are open through Sept. 30.
Martin Luther King, Jr. Community Center
2922 Martin Luther King, Jr. Blvd.
214-670-8367
Monday - Friday 8 a.m. - 7 p.m.
Saturday 8 a.m. - 6 p.m.

West Dallas Multipurpose Center
2828 Fish Trap Rd.
214-670-6340
Monday - Friday 8 a.m. - 5 p.m.
The Salvation Army has also opened 15 cooling stations across the Metroplex to help people beat the heat. Each location offers a cool place to stay during the day and ice cold water to keep people hydrated.
These locations are open seven days a week:
Carr P. Collins Social Services Center
(Parkland Hospital Area)
5302 Harry Hines Blvd.
Dallas, TX 75235
(214) 424-7000
Mabee Social Services Center
(Fort Worth)
1855 E. Lancaster Ave.
Fort Worth, TX 76103
(817) 344-1811
All of the following location are open from 9 a.m. - 4 p.m. Monday through Friday:
Dallas Temple
(Love Field Area)
6500 Harry Hines Blvd.
Dallas, TX 75235
(214) 956-6025
Oak Cliff
1617 W. Jefferson
Dallas, TX 75208
(214) 941-5911 or 5914
Cedar Crest
(East Oak Cliff)
1007 Hutchins Road
Dallas, TX 75203
(214) 941-7404
Pleasant Grove
8341 Elam Road
Dallas, Texas 75217
214-398-6619
Denton
1508 East McKinney St.
Denton, TX 76201
(940) 566-3800
Garland
451 W. Ave D
Garland, TX 75040
(972) 272-4531
Irving
250 East Grauwyler Road
Irving, TX 75061
(972) 438-6553
Lewisville
207 Elm Street
Lewisville, TX 75067
(972) 353-9400
McKinney
600 Wilson Creek Pkwy
McKinney, TX 75069
(972) 542-6694
Plano
3528 E. 14th
Plano, TX 75074
(972) 423-8254
Arlington
712 W. Abram
Arlington, TX 76013
(817) 860-1836
Northside Corps
(N. Fort Worth)
3023 NW 24th St.
Fort Worth, TX 76106
(817) 624-3111 or 1637
Waxahachie
620 Farley St.
Waxahachie, TX 75165
(972) 937-7727
View the latest news and complete coverage of the record-breaking North Texas heat in our special section.