If you haven't already, download our app now so that you'll receive timely storm alerts and notifications (phones/tablets) of live weather updates as the next round of storms move into the Metroplex. Click here to get the NBC 5 app for your phone, tablet, or television.
Severe thunderstorms pushed through the Metroplex Monday night, spawning six tornadoes in Collin, Ellis and Johnson counties while drenching other areas in several inches of rain and pounding hail while cutting power to thousands.
Damage reports received by the National Weather Service included damaged buildings and trees, downed power lines, and overturned vehicles.
Details about tornado reports were confirmed by NWS survey crews throughout the week before being finalized Thursday afternoon. Details on the tornadoes are below.
All other damage is being attributed to straight-line winds. The NWS said Thursday that the storm that went through Johnson and Ellis counties had a strong path of wind south of the tornado that indicated 70-80mph winds.
The NWS said damage surveyed in Kaufman and Van Zandt counties was also due to straight-line winds along a bowing segment.
FOUR TORNADOES HIT JOHNSON COUNTY
The National Weather Service confirmed Thursday that there were four different tornadoes that touched down in Johnson County, an EF-2 and three EF-0s.
Tuesday afternoon, the NWS confirmed an EF-2 tornado hit Monday night in Johnson County, just north of Egan. Meteorologists said the winds with this storm were around 112 mph.
Some homes were reportedly damaged in Johnson County where a tornado touched down at about 10:41 p.m. near Alvarado heading toward Lillian. The circulation continued pushing east toward Ellis County where it appeared to pass over downtown Midlothian before transitioning to a straight-line wind threat.
NWS survey crews said the tornado, with a width of about 150 yards, traveled nearly 10 miles in 13 minutes.
In an interview on NBC 5 Today Tuesday morning, Johnson County Emergency Management Director Jamie Moore said at least one person was hospitalized from injuries sustained during the storm. He said about a half-dozen homes had their roofs blown off.
Johnson County residents are being asked to complete a survey online to report any storm-related damage. The county is working to set up a shelter in Alvarado for anyone in need, Moore said.
A large pile of wooden pallets that caught fire in Alvarado Monday night will burn for several days. Officials believe the pallets were struck by lightning Monday night, a fire official said. No injuries were reported.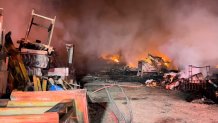 In addition to the EF-2, three EF-0 tornadoes also touched down in Johnson County.
10:49 p.m., an EF-0 near Keene touched down for about four minutes. The length was about 1. 7 miles and 75 yards wide. The tornado damaged mostly trees and caused some minor roof damage.
10:58 p.m. EF-0 max winds of 85 mph minor damage to roofs and outbuildings, animal homes, and trees north of Alvarado. Likely began near Couty Road 600 and Farm-to-Market Road 917 tracking east toward Homestead. The tornado was on the ground for about eight minutes, traveling just under 5 miles and had a width of 200 yards.
11:06 p.m., an EF-0 with max winds developed south of Farm-to-Market Road 157 and County Road 506 north of Venus tracked mostly across an open field but was identified by tree damage and damage to a few structures along CR506. Structural damage was primarily to roofs and awnings to residences and outbuildings. The tornado tracked northeast and dissipated southeast of the intersection of Delta and County Road 511 west of the Johnson-Ellis county line. The tornado was on the ground for four minutes, traveling just under 3 miles with a width of about 50 yards.
EF-1 HITS BLUE RIDGE IN COLLIN COUNTY
The National Weather Service confirmed Tuesday afternoon an EF-1 tornado touched down in Blue Ridge at about 9:32 p.m. and was on the ground for about four minutes, traveling about one-quarter of a mile with winds estimated at 100 mph. The width of the damage path was about 200 yards.
The NWS said the tornado began on the west side of Blue Ridge south of of Farm-to-Market Road 545 and east of S. Church Street where two small workshops or farm outbuildings were damaged. The tornado moved northeast, north of FM 545, damaging roofs, a barn and collapsing a wall on a metal outbuilding. The tornado damaged multiple homes and structures, including a home near FM 545 and Morrow Street that suffered substantial damage to the roof and a roof deck. The tornado damaged a car wash near Main and FM 545 and damaged several trees before lifting.
The tornado had a length of just over 1/4 of a mile and a width of 188 yards. It was on the ground from 9:32 p.m. until 9:36 p.m.
At this time, the county has no reports of storm-related injuries or casualties.
Collin County Emergency Management and Public Works departments said Tuesday afternoon one home was destroyed and several others were damaged near Blue Ridge.
Additionally, eight county roads are currently closed due to flooding or fallen trees. Road crews are working today to re-open the following county roads: 331, 400, 504, 557, 580, 590, 602 and County Road 1220 and the intersection of County Road 472.
Among those who rode out the storm in safety were a handful of Blue Ridge volunteer firefighters who gathered inside of the department's administration building in anticipation of responding after the worst of it had passed.
At about 10 p.m. Monday the storm ripped a portion of the fire department administration's roof off the building and collapsed a large portion of the drop ceiling down onto the firefighters.
"It was scary," said Capt. Bonnie Bowers of the Blue Ridge Fire Department. "But we were most concerned about the community."
First Baptist Church Blue Ridge established a benevolence fund to assist families with immediate needs. Financial donations can be made through the church's website, FirstBlueRidge.org, or text TORNADORELIEF to 888-411-3304, or mail donations to FBC Blue Ridge, 316 Highway 78 N, Blue Ridge, Texas 75424.
The church is not accepting donations of physical goods, such as clothes or blankets.
The Texas Division of Emergency Management is asking residents to report damages from the April 4 storms, for both insured and uninsured property. Residents can report damages online here.
Your Pictures of Severe Storms in North Texas on Monday Night
EF-0 CONFIRMED NEAR MIDLOTHIAN
Survey teams with the National Weather Service confirmed Wednesday damage consistent with a small EF-0 tornado near Midlothian.
The NWS said the narrow tornado touched down at about 11:13 and traveled 1.4 miles before dissipating two minutes later. Max winds were 85 mph.
The small tornado occurred along E. Wyatt Road near Ward Road. NWS survey teams spotted roof damage to homes and tree damage. The tornado was originally rated an EF-1 but was re-rated an EF-0 on Thursday.
Damage reports in the area included nine damaged structures including a home, sheds and carports. A tractor-trailer was flipped on its side at a Love's gas station along U.S. Highway 67.
VAN ZANDT COUNTY
In Van Zandt County, the hardest-hit areas include the southern portion of the county.
According to Van Zandt Emergency Management, most of the damage included trees and there was one structural collapse reported.
JD Schulgen has lived along Van Zandt County Road 2410 by Canton for about 13 years. He recalls hearing "howling wind" just after midnight Tuesday.
"I have never had winds that intense out here. There were several storms," Schulgen said. "We went through the tornado in 2017, but nothing like this so far this far south."
Schulgen said both his and his mother-in-law's properties have some roof damage.
WESTLAKE FIREFIGHTER INJURED
A firefighter in Westlake was injured Monday night while battling a house fire.
The fire, officials said, started after a lightning strike at a home on the 1800 block of Broken Bend Drive.
The homeowner was able to evacuate without injury.
The injured firefighter was hospitalized for treatment of an unspecified minor injury.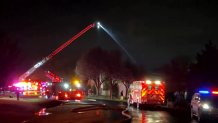 REMEMBER ME IN BURLESON
Remember Me, a rehoming organization for retired thoroughbred horses, says they lost a barn (no horses were inside), and that several fences were damaged from Monday's storm but that all of the animals appear to be OK.
RAINFALL TOTALS
Much needed widespread rain resulted in some flooding in North Texas.
Rainfall totals were over three inches in parts of Collin and Denton counties. Totals in parts of Frisco picked up over four inches.
The rain was heavy and came in a short amount of time leading to some localized flooding issues.
Parts of Dallas and Tarrant Counties saw about one to one and a half inches of rain.
The drought has been intensifying in North Texas this spring. The DFW area is in extreme drought. Updated data from the drought monitor will be released on Thursday.
WATER RESCUES, FLOODED ROADS
There were multiple, late-night water rescues Monday from flash flooding in McKinney, according to representatives of the fire department. They shared some of the photos in the video below.
In Lewisville, while no swift-water rescues were reported the police and fire departments did respond to several reports of vehicles stalled in floodwaters. Surface flooding along Interstate 35E access roads was a problem late into the night.
WHAT'S NEXT?
Behind the storms, the air will be drier and temperatures will soar into the upper 80s on Tuesday.
A cold front will swing through the area Tuesday night. It will cool us back down into the 60s and 70s for the rest of the week.
CONTINUING WEATHER COVERAGE
Stay up to date with the latest weather forecast from NBC 5's team of Weather Experts by clicking here or by watching the video below.