A major weather change is bearing down on North Texas this morning as a strong cold front barrels through.
A thin line of showers and thunderstorms pushed eastward along the front Monday morning.
Windy and much cooler conditions arrived behind the front.
A Wind Advisory is in effect from 5 a.m. to 2 p.m. Monday. Expect winds of 20-30 mph, with some gusts over 40 mph. The wind should diminish by late afternoon and evening.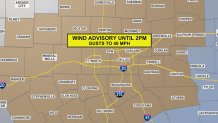 High temperatures will drop to the 50s on Monday, which is much more typical for December.
It should remain seasonably cool through Wednesday before another big warmup occurs on Thursday and Friday.
The next cold front is slated for next weekend.
See the latest weather forecast from NBC 5's team of Weather Experts below.