A surge of colder air is moving into North Texas this morning. Blustery north winds will make it feel like it's in the 20s early on.
The wind will exceed 30 mph at times today, before gradually diminishing later this evening.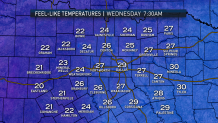 Plan on wearing your winter coat Wednesday morning. Despite sunshine, temperatures Wednesday afternoon will struggle to reach the upper 40s with wind chills mostly in the upper 30s.
A freeze is expected Thursday morning, followed by a warming trend for the afternoon. Temperatures will continue to moderate by the end of the work week and into the weekend. High temperatures both Saturday and Sunday will be in the 70s.