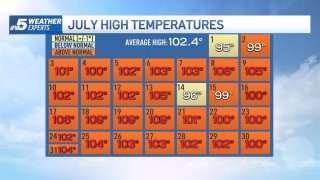 July finished as the third-warmest July on record at Dallas-Fort Worth International Airport. The average high was 102.4 degrees, which is almost seven degrees above normal.
This July calendar shows the high temperatures over the past month. Only four days were below 100 degrees. Only two days the high was lower than normal.
The overnight lows in July were also very warm. The average low temperature was 81.1 degrees. That ranks as the warmest average low on record.
DFW Airport only recorded a trace of rainfall for the month. July 2022 tied for the second-driest July on record. The lack of rainfall also allowed for the drought to worsen. North Texas is now in severe to exceptional drought.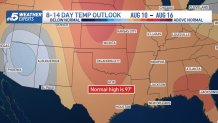 August is looking like more of the same. A persistent weather pattern is keeping the hot, dry streak going. The Climate Prediction Center has above-normal temperatures forecasted.
August is the hottest month of the year.
Weather Connection
Connecting you with your forecast and all the things that make North Texas weather unique.
Here is a look at August normals in North Texas.
By the end of August, the normal high is 93 degrees with almost an hour less daylight compared to when the month started.