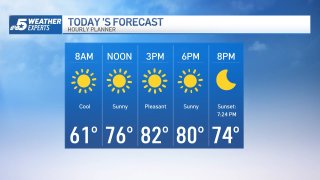 The fall equinox on Wednesday will mark the beginning of the fall season. Thanks to a cold front Tuesday morning, it will feel like it!
Monday's high topped out at 100, while Tuesday's high was in the low 80s.
The front caused some showers to develop, making for a wet commute Tuesday morning for some.
By Wednesday morning, it will be rather chilly. Widespread 50s are expected for lows, but some locations farther north could drop into the 40s.
The next few nights the lows will be 50s. This tase of fall doesn't last too long. By the weekend, temperatures will be climbing back up once again with highs near 90.
---
Weather Links
---